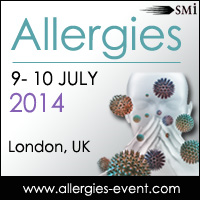 "The challenges and opportunities in food allergy research will be discussed, and how a food industry such as Nestlé is contributing to allergy prevention and symptoms management." Nestlé Allergy Group
London, UK (PRWEB UK) 22 May 2014
Attendees at SMi's inaugural Allergies conference will receive an exclusive update from Allergy Research Scientist, Dr Chiara Nembrini during her keynote address entitled: Current Status of Food Allergy Management. Highlights will include insights into Nestlé's global approach into managing allergies, challenges in food immunotherapy and developing advances in food allergy treatment.
Earlier this week, Dr Nembrini spoke to SMi about what attendees can expect to hear during her presentation:
"The challenges and opportunities in food allergy research will be discussed, and how a food industry such as Nestlé is contributing to allergy prevention and symptoms management."
Chiara Nembrini, PhD, is a research scientist in the Allergy group at the Nestlé Research Center. Her role is to lead research projects focusing on the development of nutritional solutions for the prevention and reduction of symptoms of allergic diseases.
When asked about what Nestle hoped to gain from the event Chiara said:
"To hear the latest updates and challenges in the field, and interact with participants from industry and clinical research."
On the future of the industry the Nestle Research Scientist commented:
"The general consensus is that safety and efficacy of treatment should be ensured, and at the same time diagnosis and awareness could be improved."
"Latest research trends indicate a shift in relevance from allergy treatment to allergy prevention, which should focus on multiple intervention approaches: nutritional, environmental, prenatal, postnatal etc."
"Regarding allergen-specific immunotherapy, there is a lot of discussion on promoting the awareness around its efficacy, as well as on the safety of the products/treatment used."
SMi Group have worked in partnership with an expert advisory board to put together an agenda which will examine key areas such as novel approaches in the treatment of allergy, therapeutic advances, allergic pathophysiology, a current update on food allergies, the future of allergen-specific immunotherapy and challenges, allergy prevention, diagnosis and drug development.
Dr Glenis Scadding from the UK's Nose & Ear Hospital, who will also be speaking at the inaugural event said:
"This conference brings together speakers from academia, industry and from the clinic to explore promising future therapies in allergy and in non- allergic eosinophilic inflammation"
A snap shot of confirmed attendees so far include:
Addenbrookes Hospital, Biomay AG, Circassia, Department of Pathophysiology and Allergy Research, GlaxoSmithKline, Imperial College London, Johnson & Johnson, Laboratorios Leti, MedImmune, National Heart and Lung Institute, NJ Center for Oral Surgery, Novartis, Nutricia Research, Nuvo Research GmbH, Quintiles, Royal Free Hospital, Swecure, TNO
The short interview with Nestle will soon be available to download at http://www.allergies-event.com.
Allergies
9-10 July 2014
Holiday Inn Regents Park, London UK
http://www.allergies-event.com
Note to Editor:
SMi's Linkedin Allergies Community has been created for professionals, academia and scientists involved in the allergy industry to discuss diagnosis, novel therapeutics and clinical developments targeted towards the treatment of allergy. To join visit http://linkd.in/OV53jM.
About SMi Group
Established since 1993, the SMi Group is a global event-production company that specializes in Business-to-Business Conferences, Workshops, Masterclasses and online Communities. We create and deliver events in the Defence, Security, Energy, Utilities, Finance and Pharmaceutical industries.
We pride ourselves on having access to the worlds most forward thinking opinion leaders and visionaries, allowing us to bring our communities together to Learn, Engage, Share and Network. We hold events in over 30 major cities throughout the world including London, Paris and Singapore and to date have welcomed over 200,000 participants from 80 countries.
More information can be found at http://www.smi-online.co.uk.