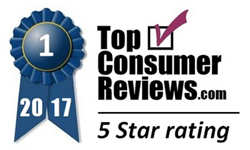 ...SOS HistaDrops easily merits our top ranking among non-prescription Allergy Relief products in 2017.
Overland Park, KS (PRWEB) February 28, 2017
TopConsumerReviews.com recently gave a best-in-class 5 star rating to SOS HistaDrops, a leader among non-prescription Allergy Relief products.
From pollen to pet dander, allergies can be caused by a wide range of irritants in the air we breathe. While many of these types of allergies aren't serious, the symptoms can disrupt our lives - like the sneezing, runny noses, and rashes that make it difficult to sleep, study, or work normally. Although some people are able to find relief from traditional medications, prescription and non-prescription, many allergy sufferers are turning to more natural products to alleviate their allergy symptoms.
"SOS HistaDrops can provide relief from symptoms of airborne allergies," said Brian Dolezal of TopConsumerReviews.com, LLC. "Made from natural herbs and other homeopathic remedies, this tincture formula is easy to take: just dilute the drops in a small amount of water or juice and drink normally. Happy customers report seeing relief for their watering eyes, sneezing, and other symptoms. The SOS HistaDrops formula is also gentle enough that it can be taken in conjunction with other allergy products as needed. This Allergy Relief product comes with an amazing one-year, unconditional money-back guarantee, making it completely risk-free to give it a try. Because of their affordable pricing, proven results, and customer-friendly guarantee, SOS HistaDrops easily merits our top ranking among non-prescription Allergy Relief products in 2017."
To find out more about SOS HistaDrops and other over-the-counter Allergy treatments, including reviews and comparison rankings, please visit the Allergy Relief category of TopConsumerReviews.com at http://www.topconsumerreviews.com/allergies/.
About SOS HistaDrops
SOS HistaDrops is provided by Native Remedies, whose mission is "to inspire more people to embrace a natural approach to complete family wellness". Their core principles include ensuring quality, building trust, exceeding customer expectations, and bettering the community. From their unconditional money-back guarantee to their manufacturing process according to the highest pharmaceutical standards, Native Remedies takes a hands-on approach to their holistic approach to health.
About TopConsumerReviews.com
TopConsumerReviews.com, LLC is a leading provider of independent reviews and rankings of hundreds of consumer products and services. From Allergy Relief to Prepared Meals and Asthma Products, TopConsumerReviews.com delivers in-depth product evaluations in order to make purchasing decisions easier.