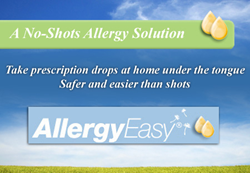 The serum actually helps "retrain" the immune system so that it can stop reacting to allergy triggers in the first place. It treats the underlying allergy-not just the symptoms.
Phoenix, Arizona (PRWEB) October 28, 2014
Since allergies are often genetic, many families survive allergy season by purchasing outsize quantities of antihistamines or making frequent pilgrimages to the doctor's office for family members' allergy shots.
But according to Stuart Agren, M.D., director of AllergyEasy, there's an easier way. The AllergyEasy treatment program uses under-the-tongue drops that are prescribed by physicians across the country and provide a no-shots, family-friendly approach to allergy treatment.
AllergyEasy treatment starts with an allergy serum containing most allergy-causing pollens from around the world. Patients take the serum sublingually (under-the-tongue) where it absorbs into the bloodstream through special cells in the mouth. Over time, the body can learn to tolerate these pollens and stop overreacting when it encounters them in nature.
AllergyEasy patient Jennifer Palmer is certain that she inherited her allergies from her grandmother who suffered from severe food allergies. Jennifer, too, had gastrointestinal distress from food allergies as well as severe hay fever and eczema from pollen allergies. Her husband, Joe, had seasonal pollen allergies.
Together, the Palmers have six children, five of whom inherited the family allergy "curse." Tired of the side effects from a patchwork of allergy pills, they sought out a long-term solution for their allergies at AllergyEasy.
"We would all gather around at the end of the day and take our allergy serum, said Joe Palmer. The sublingual serum is safer than shots, so it can be taken at home. It also works better for young patients since it is simply squeezed under the tongue (rather than injected) and does not carry the same risk of anaphylactic reaction that shots do.
After a couple weeks on the serum, Jennifer Palmer felt her allergic fatigue letting up. "I was tired all of the time, but the serum got me out of my slump," said Palmer. Then, she noticed her family's food allergies and hay fever symptoms improving.
And unlike with allergy medications like antihistamine, the symptoms didn't keep returning every time they dropped off their allergy pills. The serum actually helps "retrain the immune system so that it can stop reacting to allergy triggers in the first place. It treats the underlying allergy-not just the symptoms.
Studies show that if one parent has allergies, their child has a 50 percent chance of inheriting them. If both parents have allergies, the probability jumps to 75 percent. Allergy sufferers looking for a no-shots, no-hassle allergy solution can contact AllergyEasy for more details at myallergyeasy.com or by calling 1-877-2-SNEEZE.