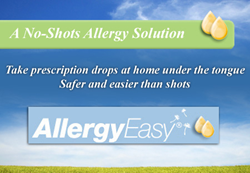 About 80 to 85 percent of my allergy patients and 90 percent of my asthma patients experience relief in the first three months.
Mesa, Arizona (PRWEB) September 25, 2014
With its colored leaves and cooler temperatures, fall is a favorite season for many people—but not for the allergic.  Ragweed and other fall pollens can sully the season, turning allergy sufferers into a sniffling, sneezing, itchy-eyed mess. 
 
AllergyEasy is fighting back with an under-the-tongue allergy serum that packs a punch at fall allergens.  The AllergyEasy treatment program--featuring sublingual allergy drops that absorb into the bloodstream through cells in the mouth—is  available through physicians in 32 states.  And it just got even better with a new "boost" that can be added to the liquid allergy serum to counteract fall pollens.
 
 "Most patients do very well on the standard serum, but for those who have particularly strong sensitivity to fall allergens, these 'boosts' can provide more thorough protection from allergens than usual," said Dr. Stuart Agren, founder and director of AllergyEasy. 
 
The boost is a liquid solution containing added concentrations of ragweed and other fall pollen extracts.  When the body is exposed to these pollens, it can build up an immune defense to them so that even a particularly pollen-heavy fall won't kick up allergy symptoms. 
 
Allergies to seasonal pollens can lead to a variety of hay fever-related symptoms including sneezing, a runny or congested nose, itchy eyes, and a scratchy throat.  They can also cause eczema, hives, chronic cough, chronic sinusitis, asthma, and headaches.
 
AllergyEasy drops work much like shots to desensitize the body to irritating pollens. However, rather than being injected into the skin, the drops absorb into the bloodstream through special cells in the mouth.  Drops are safer than shots so they can be taken at home rather than at the doctor's office
According to Dr. Agren, the drops have a high success rate and produce more rapid results than shot programs. He believes that they work faster because patients can take them on a daily basis rather than getting shots just a couple times a week.
"About 80 to 85 percent of my allergy patients and 90 percent of my asthma patients experience relief in the first three months," said Dr. Agren. "Shots often take six months to a year to start producing results."
Dr. Agren also said that the compliance rate with drops is much higher than with shots because it is so easy for patients to take them—just a few drops under the tongue once a day!
For more information, contact AllergyEasy at 877-276-3393 (877-2SNEEZE) or through the MyAllergyEasy patient website: http://www.MyAllergyEasy.com.
###
AllergyEasy
2033 E Warner Road, Suite 102
Tempe, AZ 85284
CONTACTS:
Phone: 480-827-0038, ext. 1 (Melissa)
Website: http://www.AllergyEasy.com
E-mail: orders(at)allergyeasy(dot)com