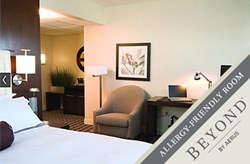 With increasing numbers of people who are concerned with healthy traveling, we believe the Beyond by Aerus rooms will continue to be in great demand
Dallas, TX (PRWEB) February 13, 2014
The Ellis Hotel, Downtown Atlanta's premier boutique hotel, recently converted an entire floor to feature exclusively Beyond by Aerus allergy-friendly rooms. Well known for its private-access women-only floor, the hotel now offers a second private-access floor offering allergy-friendly rooms by implementing the Beyond by Aerus purification process. This patent-pending system includes 15 unique treatment programs.
The Ellis Hotel partnered with Beyond by Aerus to provide a solution for travelers that suffer from allergies and asthma. In the past, finding hotel properties that offered hypoallergenic amenities and purification technologies proved difficult for sensitive travelers. Ellis Hotel guests can now stay in Beyond by Aerus allergy-friendly hotel rooms, an affordable alternative that helps guests breathe easier, sleep better, and enjoy an enhanced travel experience.
Every Beyond by Aerus room features ActivePure technology that works constantly to provide the highest levels of protection against airborne and surface contaminants. ActivePure is based on technology that was originally developed for use on the International Space Station and is the only air purification technology in the world recognized as a Certified Space Technology. The Beyond by Aerus solution is utilized in hotel rooms, businesses, home residences, athletic facilities and doctor's offices across the country and can reduce air and surface irritants to nearly undetectable levels. ActivePure technology is supported by testing and university studies.
The U.S. News World Report recently ranked the Ellis Hotel the #2 Best Hotel in downtown Atlanta and #8 in all of Atlanta. The Ellis Hotel is dedicated to providing world-class amenities and services for all its guests, and is known as the place where modern elegance meets historic style. The Ellis Hotel's General Manager, Kim Kleisner, has been very pleased with the installation and results of the allergy-friendly room solution. "Our guests have really responded well to having a fresh air experience as an option," he said. "With increasing numbers of people who are concerned with healthy traveling, we believe the Beyond by Aerus rooms will continue to be in great demand."
For more information about Beyond by Aerus allergy-friendly rooms at the Ellis Hotel, please contact hotel reservations directly at: 877 211 2545.
About Beyond by Aerus
Since beginning as Electrolux in the USA in 1924, and now as Aerus, this industry leader is focused on creating healthy living environments and providing unparalleled lifetime service. Their legacy is renowned for innovative, life-changing products, friendly, unparalleled customer service and products that customers can trust and depend on.
Aerus has an unmatched history of excellence over the last 90 years and their products are recognized by the Smithsonian. They have served over 50 million satisfied customers and most importantly, over 99.8% of customers that say they would recommend them to family and friends. Aerus is committed to exemplary service and remarkable technological advancement.
Aerus and its Beyond Technologies endeavor to promise customers natural healthy environmental solutions that exceed their imagination.
Franchise opportunities are available. To learn more about Beyond by Aerus allergy-friendly rooms and technologies, visit http://www.beyondbyaerus.com.