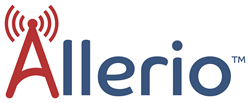 We are excited to partner with the Public Safety Network to leverage P3's communications engineering expertise to bring an innovative and comprehensive approach to connectivity for the EMS community. - Marc Althoff
DULUTH, Minn. (PRWEB) October 28, 2019
Created by former FirstNet senior executives and P3 Group North America engineers, Allerio is a smart mobile connectivity company that is taking emergency medical services (EMS) and telemedicine to the next level with next generation connectivity solutions built with meeting the needs of responders in mind. The start-up is dedicated to bringing the best technology for first responders to meet the current and future needs of the global public safety community.
Allerio is a joint venture between the Public Safety Network, LLC (PSN) and P3 North America Inc. (P3 NA) and was founded in 2019. Allerio is headquartered in Duluth, Minnesota with satellite offices spanning the U.S., including production facilities in Madison Heights, Michigan. The co-founders of PSN, TJ Kennedy, former President of the FirstNet Authority, and Jason Karp, former Chief Counsel of the FirstNet Authority, founded PSN to help bring to market the best technology and communications solutions to meet the mission critical needs of public safety. P3 NA is a subsidiary of P3 Group GmbH (P3 Group), which is a world-renowned engineering firm with significant success in the communications, automotive and aviation sectors. Kennedy and Karp are part of the Allerio senior executive team and serve on the Allerio board of directors, along with Dr. Samit Ghosh, the President and CEO of P3 NA, and Marc Peter Althoff, Managing Director of P3 Group.
"We are excited to partner with the Public Safety Network to leverage P3's communications engineering expertise to bring an innovative and comprehensive approach to connectivity for the EMS community," noted Marc Althoff.
Allerio executives came to understand even more the need for new and innovative communications solutions for EMS to assist with their lifesaving mission while at the FirstNet Authority, where the founders and other members of the FirstNet Authority consultation team engaged with first responders nationwide.
"As telemedicine has become more prevalent with the roll out of Emergency Triage, Treat and Transport (ET3) for out of hospital care being performed by EMS, the need for reliable, uninterrupted and secure, connectivity has become increasingly paramount. Allerio's platform allows for that enhanced connectivity capability. Allerio's ability to provide reliable patient data transmission gives EMS professionals the ability to quickly and accurately record and share crucial patient information, with a continued focus on the patient, instead of spending extra time doing manual data entry and recordkeeping," said co-founder TJ Kennedy.
Allerio's smart connectivity solutions for EMS agencies, healthcare professionals, and hospitals provide a reliable communication platform to facilitate the exchange of critical patient information and data from the field to the hospital. The Allerio "Mobile Hub" enables a seamless and automatic network transition to access the best available connectivity, whether in or out of a vehicle, patient home or other structure, ensuring patient data is delivered in real-time. Through an easy to use, one-button interface, Allerio gives EMS personnel an efficient and secure platform to connect devices and transmit rich data.
"Allerio is on the cusp of innovation, and we are truly excited about partnering with medical technology innovators to ensure public safety has the latest, most advanced lifesaving technologies at their fingertips," added co-founder Jason Karp.
Empowering EMS with lifesaving technology is Allerio's foundation. For all first responders who rely on broadband LTE networks to send patient data reliably to hospitals, Allerio will increase their capabilities and enable improved communications every day and during disasters to continually provide earlier medical interventions to help achieve improved patient outcomes.
For more information, visit: http://www.Allerio.com.
Marc Peter Althoff
Marc Peter Althoff is one of the founders of the telecom branch and the Group CTO of P3 Group, an international management consulting and innovative engineering solutions company. In this role he defines the growth strategy, identifying the technology domains P3 will focus on in the near-and mid-future. While at P3, he has grown the telecom branch to more than 750 engineers, providing innovative services for major wireless carriers in the U.S. and abroad.
About Dr. Samit Ghosh
Dr. Samit Ghosh is President and CEO of P3 North America, Inc., the U.S. arm of the P3 Group, an international management consulting and innovative engineering solutions company. Since 2005, he has been responsible for leading the company's growth in the U.S. automotive and aerospace industry, especially in the fields of electronics, connectivity, mobility and autonomous technologies.
About Jason Karp
Jason Karp brings more than 25 years of legal and business executive experience in the telecom, technology, media/advertising and public safety environments, having managed within large corporations, start-ups and the federal government. Jason is the co-founder of the Public Safety Network and was the Chief Counsel at the FirstNet Authority.
About TJ Kennedy
TJ Kennedy has had a 25-year career in wireless technology and public safety and is the co-founder of the Public Safety Network. He was also President of the FirstNet Authority, where he led the organization from a start-up independent authority inside the United States government to a successful $40+ billion public private partnership.