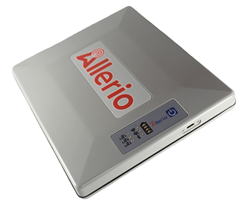 At Allerio we are passionate about empowering first responders with life-saving technology.
DULUTH, Minn. (PRWEB) June 24, 2020
At Allerio we have chosen to do things differently. At Allerio we solved an important problem with connectivity for telemedicine and remote communications. We knew it had to be portable, it had to be reliable, it had to be secure, it had to be simple, and that it just has to work.
We are proud to announce that Allerio has passed all FCC and carrier certification requirements to operate on three U.S. nationwide networks simultaneously for its Allerio Mobile Hub platform. Allerio is a portable connectivity platform that optimizes cellular connectivity, enabling first responders in the field to reliably record, share, and transmit critical patient and other broadband data for telemedicine at the point of care and in transit.
Allerio CEO TJ Kennedy said, "At Allerio we are passionate about empowering first responders with life-saving technology. When creating Allerio, we looked at what was available for telemedicine at the patient's location and found that more was needed, so we went to work to solve that problem. We came up with something completely different that optimizes coverage of three nationwide carrier LTE networks in one device that is lightweight, portable and is extremely easy to operate."
Allerio Corporate Development Officer Jason Karp added, "The Allerio solution is a true step forward in connectivity options, which has been validated by public safety in the field, facilitating telemedicine for faster patient interventions and enabling true community paramedicine."
The Allerio Mobile Hub platform, which includes all network connectivity, is now available for one low monthly fee. To learn more about Allerio, visit http://www.allerio.com.
About Allerio
Allerio's smart connectivity solution for first responders and other public safety personnel provides a reliable communication platform that facilitates the exchange of critical information and data from the field. Through an easy to use, one-button interface, Allerio offers an efficient and secure "Mobile Hub" to connect devices and transmit rich data in real-time, whether at the incident or in transit in an emergency vehicle. Allerio is headquartered in Duluth, Minnesota with satellite offices spanning the U.S., including production facilities in Madison Heights, Michigan. For more information, visit http://www.allerio.com and follow us on social media.