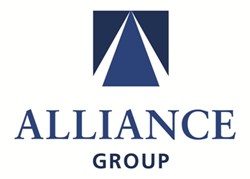 "One major component of change has been the rapid decline in the effectiveness of the typical marketing methods...the days of "pushing" marketing towards a customer are gone – giving way to maintaining a strong presence online"
Lawrenceville, GA (PRWEB) February 11, 2014
Alliance Group celebrated its 15th year of doing business in 2013. It was another RECORD-BREAKING year with a total net weighted placed premium of $21,566,481. That number represents an 8% gain over 2012 (previous record) – and they have more than doubled the production from just 5 years ago.
ALLIANCE GROUP STATS
2013 Policy Count: 15,695
2013 Face Amount: $3,326,915,983
2013 Premium: $21,566,481
TOTAL IN FORCE POLICIES: 111,595
TOTAL FACE AMOUNT: $53,593,049,769
TOTAL PREMIUM: $131,818,117
With this growth, Alliance Group began to recognize the associated need for growth inside the organization. Knowing that they would need to focus on manpower, Alliance has been working the past two years on developing individuals from within to take on additional roles and responsibilities. This has been and will continue to be Alliance Group's model. They will continue to staff & develop key positions inside Alliance Group to ensure that they can continue to provide the excellent training and marketing support that has helped the marketing group grow to where they are today.
By growing the staff from within the organization, they are able to provide a far better standard of support, as each member has become familiar with all facets of the industry…from processing business and supporting agents, to marketing and sales.
Alliance's T.O.P.S (Total Opportunity Package for Success) program also separates the group from other life insurance marketing organizations. This is another offering that reflects the drive to continue to help independent agents and agencies grow their practice through their best-in-class training and unique marketing concepts. With that said, Alliance has made some recent additions and changes to the marketing team.
CHIEF MARKETING OFFICER
Lee Duncan, who has been an integral part of the growth of Alliance Group has been promoted to Executive Vice President and Chief Marketing Officer. Lee has been with Alliance for more than 10 years and has successfully performed EVERY role within the organization – from administration, sales agent and managing general agent, to National Training Director and VP of Sales. His new position as CMO will allow him to lead ALL THINGS marketing, sales and training related. He will oversee marketing initiatives within the organization, and work to develop areas such as sales management, product development, distribution channel management and marketing communications – including advertising and promotions, market research, agent services, as well as agent training.
A CHANGING MARKETPLACE:
"A major shifting paradigm within the world of marketing is the way that people research and ultimately decide to buy a product" says Duncan. "The internet has enabled the consumer to gain a wealth of knowledge long before interaction with a seller – or in this case, an insurance agent." When asked how this affects his marketing efforts, Lee states "one major component of change has been the rapid decline in the effectiveness of the typical marketing methods...the days of "pushing" marketing towards a customer are gone – giving way to maintaining a strong presence online" Lee adds "web based researching, collaborating and seeking opinions from peers have created a shift that has been a driving force towards the re-alignment of the Marketing team at Alliance."
It was an awareness of this shift that prompted Lee Duncan to prepare and build his team from within.
A RE-VAMPED MARKETING TEAM
The rapid and continued growth of Alliance Group has resulted in a need for a more direct focus from Lee Duncan, prompting the new role as CMO. As a result, his overall scope of responsibility has changed, and his ability to travel and spend time in the field will be decreased. In response, Alliance has restructured the Marketing team that will all report to Lee in his new role.
Peter Goldfine has been with Alliance Group for almost five years and has taken the typical growth path inside the organization. Going forward, he will continue his expanding role as the National Marketing Director for Alliance Group. Peter will work with Lee Duncan in everything relating to marketing, training, sales and recruiting. Peter will also continue to enhance the brands online visibility through Social Media, SEO, and content creation.
Due to Lee Duncan's desire to travel less and lead the team, Alliance has also added two new Regional Recruiting & Training Directors to the organization. The addition of these positions was critical towards making certain that we continue to provide industry leading agent training and support.
Steve Walther has been in the life brokerage business for over 17 years. He currently holds his FINRA Series 7, 66 and 24. In addition to working with financial advisers all over the country, Steve currently serves on the Board of Directors for the National Association of Insurance Life Brokerage Agencies, or NAILBA. His experience and relationships throughout the industry will serve him well in his new role as Regional Recruiting and Training Director. Steve has excellent advanced Planning skills that will help take Alliance Group's training to the next level, including advanced concepts such as Section 79, Qualified Plans, CRT's, Special Needs Planning, and much, much more.
Samuel Howe is well into his 2nd year as a member of the Alliance team. With a diverse background of professional experience, Samuel quickly established himself as an increasingly valuable asset. While learning the Insurance Industry, Samuel put his experience gained from over 7 years as a producer with CNN to work. With Samuel's guidance, Alliance was able to build a fully functional production studio with which Samuel has since created a number of premier marketing videos. In addition to his expertise in video production, he will expand his duties towards recruiting and field training as a Regional Recruiting and Training Director.
###
About Alliance Group:
As a leader in the living benefits life insurance market, Alliance Group stands out as the foremost provider of life insurance products and tax advantaged concepts with exclusive proprietary living benefits, including critical illness benefit, mortgage protection, chronic illness care, critical illness care, heart attack insurance, cancer insurance coverage, and health insurance gap coverage. They provide insurance products with a living benefits insurance package included at no additional premium cost and with no additional underwriting. They only represent companies with a proven track record of honoring their commitments and with strong financial strength ratings. They are dedicated to providing high quality service during and after the sale, resulting in over $53 billion of life insurance in force. Want to know more about Living Benefits? Click Here: http://bit.ly/LUFvSy
Learn more about working with Alliance Group. Visit http://www.becomecaptivated.com
You can find out more about their company at http://www.anallianceforlife.com