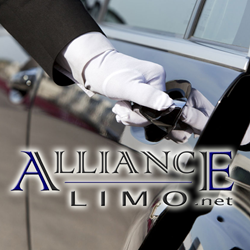 Between July 1st and August 31st, customers who download the app will be given a Promo Code: summer15. Use this code and receive 15% off the entire ride.
Los Angeles, CA (PRWEB) June 25, 2015
One of the leaders in reliable, punctual, and affordable limousine and transportation services, Alliance Limousine, is proud to announce a complete rebranding of the company. Servicing Southern California for years, Alliance Limo is ready to step up continual high quality service with a fresh new look. The company is known for excellent limousine service and car service, whether it is for a corporate function, a wedding or a night out on the town.
The most exciting news of the summer comes from the new Alliance Limo app which is available on Android and iTunes for Free. The app allows customers the ability to easily and conveniently reserve a ride, learn about the company, and get updates of arrival times. Between July 1st and August 31st, customers who download the application will be given a Promo Code: summer15. Use this code and receive 15% off the entire ride.
This hot new promotion will make it easier and more affordable to impress your clients, ride a limo down PCH or through the Las Vegas strip or order a luxury SUV to drive you to LAX airport to take the stress out of driving. Whether you want to make strict reservations in advance or want to play it by ear, Alliance's chauffeurs are always flexible and willing to please.
In conjunction with the rebranding, Alliance has launched a filly revamped, easy to navigate website filled with everything a traveler or passenger will need to learn about the company and make a reservation, fast! As a bonus one could also see detailed descriptions of the fleet of cars, SUV's, limos and vans that are available to reserve. Check out the updated fleet, logo, and redone http://www.AllianceLimo.net today.
Alliance Limousine is proud of the excellent service provided for over three decades. You can find testimonials from various customers on the new website and a high rating on Yelp. Leslie P. from Hollywood California says, "Alliance Limo is the best of the best and my go-to car service. They are reliable, always on time, and extremely accommodating. I have used them for last minute car service bookings and they have provided me drivers within 10 minutes of calling. Everything always goes smoothly and the cars and drivers are top of the line."
For more information on services, technology and Alliance's fleet of cars please visit: http://alliancelimo.net/
About Alliance Limo:
Servicing Southern California since 1992, Alliance Limousine is the trusted name for luxury travel. Throughout the years Alliance has perfected performance that ensures uncompromising quality and unequalled service. Corporate headquarters is based in Los Angeles, but services Las Vegas, San Francisco, New York, Chicago, Miami, London, Prague, and many more! Give us a call today (800) 954-5466.
Promotional Information:
Download Alliance Limo's mobile app on iTunes, Google Play or on http://www.AllianceLimo.net, reserve your trip, ride between July 1st and August 31st and receive 15% off your entire ride. Promo code: summer15