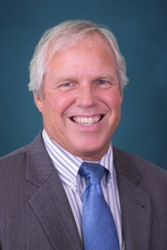 CalOptima is an important organization for our community, and it will be in capable, compassionate hands.
ORANGE, Calif. (PRWEB) March 28, 2017
Award-winning medical group Allied Anesthesia today announced one of its leading physicians, Paul Yost, will begin serving as new board chair for Orange County health care system CalOptima Friday. CalOptima announced its election results earlier this month. Yost will serve the remainder of soon-to-be former chair Mark Refowitz's term, which runs through June 30 of this year, until another election is held. No date has been released for that election.
Allied Anesthesia CEO Kaveh Matin said, "We're, of course, delighted that Dr. Yost was chosen to lead this great organization. Not only because it's an honor to us as a medical group, but mainly because we know the kind of outstanding physician and leader he is. CalOptima is an important organization for our community, and it will be in capable, compassionate hands."
Yost, who practices adult and pediatric anesthesiology, served on CalOptima's Board from 2001 to 2009 and was reappointed Aug. 2016. He is secretary treasurer for the Orange County Medical Association and serves as director of cardiothoracic anesthesia at St. Joseph Hospital. Yost is former chief of staff and chair of anesthesiology at Children's Hospital of Orange County (CHOC) and former president of the California Society of Anesthesiologists. He is also a founding member of the San Gabriel and Lower Los Angeles Rivers and Mountains Conservancy and former mayor of the city of Seal Beach.
Yost said, "It's an incredible honor for me to be allowed this opportunity to serve our community in such a profound way. I look forward to what the future holds for the organization, and I feel fortunate to have the chance to contribute to its wonderful mission."
Yost earned a bachelor's degree in psychology from Stanford University and attended Baylor College of Medicine. He practices regularly at St. Joseph Hospital and CHOC.
About CalOptima: A county organized health system, CalOptima provides publicly funded health care coverage for low-income children, adults, seniors and people with disabilities in Orange County, Calif. CalOptima's mission is to provide high quality cost effective healthcare to its members. In total, CalOptima serves nearly 800,000 members with a network of more than 7,200 primary care doctors and specialists, as well as 30 hospitals.
About Allied Anesthesia: With more than 100 highly qualified physician anesthesiologists on staff, Allied Anesthesia provides adult and pediatric anesthesia services to Children's Hospital of Orange County, Hoag Orthopedic Institute, Pacific Eye Institute, San Antonio Regional Hospital, St. Jude, St. Joseph and St. Mary Medical Centers within the St. Joseph of Orange Health System, and several surgical institutes and centers throughout Southern California. In 2014, Allied Anesthesia joined with Fullerton Anesthesia Associates and Upland Anesthesia Medical Group to consolidate best practices in more than six hospitals and in more than a dozen ambulatory surgery centers. The expanded medical practice is dedicated to offering the highest comprehensive quality of care and the most cost-effective procedures in the facilities it serves. All Allied physician anesthesiologists are board certified in anesthesiology. The doctors also staff and manage the most efficient operating rooms in Southern California. Allied is a member of the California Society of Anesthesiologists, the American Society of Anesthesiologists and the Anesthesia Quality Institute.
For more information, visit: http://www.alliedanesthesia.com.