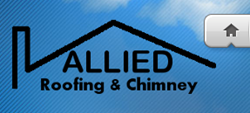 Allied Roofing & Chimney recommends full chimney and roof inspections as winter approaches.
Brooklyn, New York (PRWEB) November 08, 2013
Allied Roofing & Chimney, a roofing and chimney service company serving the Long Island and New York City communities, is reminding their clients and the entire residential and commercial community in the Metro-New York region that they should make certain that their roofs and chimneys are prepared for the potential rough weather that winter brings.
Every year, a variety of resources like the Farmer's Almanac offer predictions about the severity of winter weather that the region could face. But, as Superstorm Sandy demonstrated, all of the educated predictions and hi-tech weather monitoring systems cannot always accurately predict the severity of the winter months or the potential for devastating weather events. If is for this reason and remembering the tragic lessons that Superstorm Sandy taught us that the Boy Scout motto of Be Prepared is especially important for home and business owners.
By arranging to have a full inspection of the roof of your home or business as well as the chimney and heating systems of your home, unforeseen issues that could cause extremely problematic during a weather emergency may come to light. The ability to address these issues prior to any harsh weather will not only save money in the long run but could help to avoid situations where the home is ill-prepared for a major storm or where a business could be forced to shut down for employee and patron safety reasons. Additionally, as insurers are becoming more cautious about what types of damage they will cover in the tri-state region, the long term cost savings could be quite high.
The team at Allied Roofing & Chimney is prepared to provide inspections to all of their existing clients as well as new clients who wish to prepare for the winter. Currently, Allied is offering a $29.95 Autumn chimney cleaning special which includes a free inspection. They can also offer quotes on chimney winterization as well as roof inspections and other services.
Allied Roofing & Chimney is committed to providing the highest quality roofing and chimney services to the Long Island and New York City regions. The owner of Allied is always on every job making sure that it runs smooth; ensuring that every customer feels at ease by educating them of any problems they may have with their chimney. Possessing several years of experience, the team at Allied Roofing & Chimney and has seen it all so when it comes to chimney sweeps, chimney liners and cleaning there is no better name in the industry other than Allied. Allied Roofing & Chimney has locations in Freeport and Brooklyn and can be reached at 1-800-641-9080 or via their website at http://alliedchimneyny.com/contact-us/.