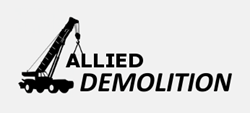 Allied Chimney Cleaning of Long Island offers demolition services.
Long Island, New York (PRWEB) October 06, 2013
Allied Roofing & Chimney, a roofing and chimney service company serving the Long Island and New York City communities for over 20 years, has introduced a broad range of demolition services for residential and commercial customers throughout the five boroughs of New York City as well as Nassau and Suffolk County on Long Island.
While not as popular a topic as construction or building services, the preparations for structural expansion of a home or business or the razing of a structure that will be replaced completely both require specialized services. And while some construction or building service providers will offer some aspect of demolition as well as the clean-up and hauling away of the resulting trash created by the demolition, they are not always equipped to handle the job fully.
Allied Demolition, a service of Allied Roofing & Chimney, is a professional service that has expertise in both interior and exterior demolition but also ensuring that when the work is done the site is free of trash and debris and ready for the next step in the process. Allied Demolition can handle interior demolition work from removal of ceilings, floors and walls throughout a home of building including the more difficult removal of kitchens and baths where plumbing and gas delivery systems are involved.
In terms of exterior demolition, Allied Demolition handles all aspects from the removal of stucco and siding to the removal of concrete and asphalt as well as pool & deck removal. Larger removal projects ranging from the removal of part of a structure to the complete knock down of a structure are also specialties of the company. Cleaning and hauling services are also performed including removal of concrete, dirt, construction debris as well as trash and debris resulting from storm or fire damage. Other clean up services include foreclosure clean up and cleaning of debris resulting from tenant and renter move out.
Allied Roofing & Chimney is committed to providing the highest quality roofing and chimney services as well as demolition services to the Long Island and New York City regions. The owner of Allied is always on every job making sure that it runs smooth; ensuring that every customer feels at ease by educating them of any problems they may have with their chimney. Possessing over 20 years of experience, the team at Allied Roofing & Chimney and has seen it all so when it comes to chimney sweeps, chimney liners and cleaning there is no better name in the industry other than Allied. Allied Roofing & Chimney has locations in Freeport and Brooklyn and can be reached at 1-800-641-9080 or via their website at http://alliedchimneyny.com/contact-us/.