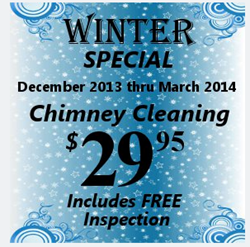 Brooklyn, New York (PRWEB) February 26, 2014
Allied Roofing & Chimney, a roofing and chimney service company serving the Long Island and New York City communities, has extended their $29.99 Winter Chimney Cleaning Special through the end of March 2014. With harsh weather pushing this winter towards being one of the worst in recent years, household chimneys are getting a workout.
As February 2014 has begun, the Long Island region has seen three major snow storms come sweeping through. Along with massive quantities of snow being left on the ground, the region has been experience what meteorologists are calling a polar vortex. The blast of cold temperatures have been putting home heating systems through their paces as homeowners have increased the burden on these systems to keep their homes and families warm.
The increased use of home heating systems entail greater amounts of chimney stress with residue building up on the inner walls of the chimney. As this residue accumulates quicker, the need for an additional cleaning or two during the winter months is necessary to ensure the safety of the families and pets within the home. Additionally, a clean chimney means the whole heating system of the house works more efficiently. This helps to ensure that the money spent on fuel oil and other heating materials is not being wasted and maximum efficiency is maintained.
An important part of the winter cleaning special is the free inspection of the chimney. With the heat of the gases and residue that is exiting the house through the chimney being countered by the extremely frigid temperatures outside, cracks and fissures can develop on the inside of the chimney. Left unfound and unrepaired, these cracks can hinder the efficiency of the heating system and also provide places for particles and dust to lodge in the walls of the chimney. Over time, as these deposits build up, they can cause further damage months later that will require costly repairs.
The team at Allied Roofing & Chimney is pleased to offer this winter cleaning special as the safety and well-being of their clients is one of their greatest concerns. They encourage all homeowners to take advantage of this offer as the low-cost combined with the resultant increased efficiency of their heating system will pay off handsomely in both comfort and peace of mind as well as financially.
Allied Roofing & Chimney is committed to providing the highest quality roofing and chimney services to the Long Island and New York City regions. The owner of Allied is always on every job making sure that it runs smooth; ensuring that every customer feels at ease by educating them of any problems they may have with their chimney. Possessing several years of experience, the team at Allied Roofing & Chimeny and has seen it all so when it comes to chimney sweeps, chimney liners and cleaning there is no better name in the industry other than Allied. Allied Roofing & Chimney has locations in Freeport and Brooklyn and can be reached at 1-800-641-9080