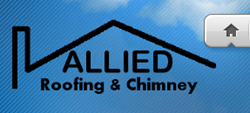 Allied Roofing & Chimney Warns Homeowners Against DIY Roof Repairs Due To Weather-related Damage
Long Island, New York (PRWEB) November 20, 2013
Allied Roofing & Chimney, a roofing and chimney service company serving the Long Island and New York City communities, is warning against homeowners attempting DIY fixes to roofing issues that could be caused by winter storms. With the high potential for water damage during winter months, improper repairs could lead to dangerous situation for both the home and its inhabitants.
When homeowners discover an issue with their roof, their first impulse is to cut costs by fixing the problem themselves. Saving money is important, but taking on roofing repairs as a do-it-yourself project can be both dangerous and costly. Unfortunately, many of the stores that sell the materials necessary to fix the issues employ people who may have knowledge on making such repairs and who make it sound easy to 'do it yourself.' They will often give advice to an earnest DIYer with the best of intentions but the results can and often do cause the situation to get worse instead of better.
The actuality is that hiring a professional contractor can save you money. Professional contractors can provide roofing materials at a lower price because they are suppliers or dealers. Most homeowners will have to buy their materials at retail cost. Roof repair can also require specialized tools that will need to be rented or purchased before the work can be started. Additionally, by hiring a professional roofing contractor the homeowner can avoid the potential for collateral damage caused by improper repairs they might attempt, collateral damage that would be costly in both monetary and other ways.
Additionally, making roofing repairs for an untrained person or even a skilled DIYer can be dangerous. Roofs can be precarious surfaces to traverse and a misstep can lead to serious injury or worse. Beyond the physical dangers, there are hidden costs of repairs that are insufficient due to lack of knowledge. Improper roof repair can lead to serious and expensive water damage inside the home such as rotted wood or toxic mold, which might not be discovered until the damage to both the health of the family and the structure is severely compromised.
Allied Roofing & Chimney is committed to providing the highest quality roofing and chimney services to the Long Island and New York City regions. The owner of Allied is always on every job making sure that it runs smooth; ensuring that every customer feels at ease by educating them of any problems they may have with their chimney. Possessing several years of experience, the team at Allied Roofing & Chimney and has seen it all so when it comes to chimney sweeps, chimney liners and cleaning there is no better name in the industry other than Allied. Allied Roofing & Chimney has locations in Freeport and Brooklyn and can be reached at 1-800-641-9080 or via their website at http://alliedchimneyny.com/contact-us/.