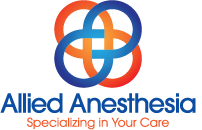 Allied really brings value to the health care that the hospital provides.
Orange, CA (PRWEB) August 29, 2013
Allied Anesthesia's tireless commitment to patient safety and positive outcomes is paying off for St. Joseph Hospital of Orange, which Consumer Reports magazine recently ranked among the top 20 percent of hospitals nationwide for avoiding adverse events.
The Consumer Reports analysis compared outcomes at 2,463 hospitals across the nation for Medicare patients undergoing 27 categories of common scheduled surgeries. The ratings focused on five measures: infections related to catheters and tubes; surgical-site infections; readmissions; serious complications such as bed sores, collapsed lungs or blood clots, and adverse events such as patient death.
Overall, St. Joseph, which has one of the busiest and most efficient operating rooms in the state of California, had 28 percent fewer adverse events than predicted.
Dr. Alejandro Ramirez, medical director of surgical services at St. Joseph, said Allied Anesthesia has worked with the hospital on many projects designed to improve cost efficiencies, patient satisfaction and overall quality over the past decade.
"Unlike most anesthesiologists, who focus only on the surgical experience, Allied physicians think more globally addressing risk factors from admissions through recovery," Ramirez said.
When asked to help St. Joseph coordinate pre-operative through post-operative patient care, Allied Anesthesia physicians devised a Patient Ready Protocol to improve pre-op coordination, eliminate unnecessary tests, and reduce the number of surgical delays and cancellations.
Since PReP was instituted last year, significant improvements in the pre-op process for St. Joseph patients have been realized.
"Allied really brings value to the health care that the hospital provides," Ramirez said. "As a result, St. Joseph is light years ahead of other institutions in terms of positive outcomes and patient and surgeon satisfaction."
The Consumer Reports analysis, which was the first ever for the magazine, appeared in the September 2013 issue and is available online at ConsumerReports.org/hospitalratings St. Joseph was recently ranked among the top adult cardiac surgery centers in the country by the Society of Thoracic Surgeons and consistently receives high ranking for Orthopedics from US News and World Report.
About Allied Anesthesia: With more than 50 highly qualified anesthesiologists on staff, Allied Anesthesia provides adult and pediatric anesthesia services to St. Joseph Hospital of Orange, CHOC Children's Hospital and many other Southern California healthcare facilities.
Allied specializes in pediatric anesthesia, performing approximately 12,000 pediatric anesthetic procedures a year. All of the group's anesthesiologists have extensive experience in the care of pediatric patients. All Allied anesthesiologists are board certified, and they staff and manage the most efficient operating rooms in Southern California.
Allied is a member of the California Society of Anesthesiologists and the American Society of Anesthesiologists.
For more information, visit http://www.alliedanesthesia.com.