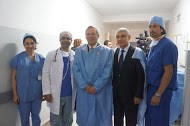 "She went from someone unable to use her hands to someone who had at least partial use of her hands and fingers."
Orange, Calif (PRWEB) January 31, 2014
Allied Anesthesia physician Dr. Armen Chalian recently returned from Armenia where he volunteered to provide anesthesia services for pediatric reconstructive surgeries that for some children were life-changing.
Chalian was part of a 17-member team of doctors and nurses from across the country on the 10-day medical mission sponsored by Plastics Foundation of Orange County, Calif., which donated more than 600 pounds of medical supplies.
"We went there to help others but in reality it really helped me more just from the experience of giving," Chalian said.
The team screened more than 120 children and performed nearly 50 surgeries at Arabkir Children's Hospital in the capital city of Yerevan, where children from throughout the developing country seek treatment. Cases ranged from cleft lips and palates and post-burn contracture release, to nose and ear abnormalities and congenitally webbed hands and feet.
Chalian recalls one patient in particular, 15-month-old Tatevik, whose hand and fingers were nothing more than balls of flesh after a cooking fire accident. Surgeons had to improvise using needles as splints on each finger instead of surgical pins, which were unavailable. Following the procedure, her hands were open and the surgeons were confident she would have some movement.
"It was just amazing," Chalian said. "She went from someone unable to use her hands to someone who had at least partial use of her hands and fingers."
Some of the patients were orphans abandoned by their parents because they were born with cleft palates or other facial deformities. Their futures were grim because they had no chance of being adopted. Chalian said the doctors not only restored their faces, they restored their hopes that they would soon be adopted.
"That's life changing," Chalian said.
In addition to screening and performing surgeries, Chalian and the others taught and supervised residents and physicians at the hospital. Even though their equipment was not as advanced as ours, Chalian said the doctors were very knowledgeable about the latest equipment and techniques.
Chalian joins a growing number of Allied Anesthesia physicians who give of their time, talent and energy to improve the lives and health of children around the world.
"At Allied, we have an extensive history of anesthesiologists doing similar things," Chalian said. "Everyone is just so outstanding and amazing, I felt it was my turn to go and I'm glad I finally did."
About Allied Anesthesia: With 53 highly qualified anesthesiologists on staff, Allied Anesthesia provides adult and pediatric anesthesia services to St. Joseph Hospital of Orange, the Children's Hospital of Orange County, the Main Street Specialty Surgery Center, and many other Southern California healthcare facilities.
All Allied Anesthesiologists are Board Certified in Anesthesiology, and they staff and manage the most efficient operating rooms in Southern California. Allied specializes in pediatric anesthesia, performing approximately 12,000 pediatric anesthetic procedures a year. All of the group's anesthesiologists have a special interest in pediatric pain management and are Board Certified or Board Eligible in Pediatric Anesthesiology.
Allied is a member of the California Society of Anesthesiologists and the American Society of Anesthesiologists.
For more information, visit http://www.alliedanesthesia.com.