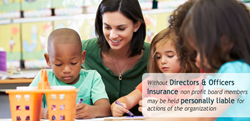 Directors and Officers Insurance can provide the layer of protection necessary to give volunteer board members peace of mind.
Chicago, Ill. (PRWEB) May 22, 2014
CPH & Associates, a Chicago-based insurance agency for allied healthcare professionals, has expanded its insurance offerings to include Directors and Officers Insurance for nonprofit organizations. As of May 2014, CPH & Associates will offer applications and quotes for coverage online at NotforProfitIns.com.
"Not-for-profit organizations are not immune to the litigious nature of our society," said C. Philip Hodson, President at CPH & Associates. "Many nonprofit board members are not aware that they may be held personally liable for the actions of the organization. Directors and Officers Insurance can provide the layer of protection necessary to give volunteer board members peace of mind."
The new Nonprofit Directors and Officers Liability Insurance program provides options to customize a policy suited to the non-profit organization's needs. Coverage options include:
1. Directors & Officers Liability
2. Employment Practices Liability with Third Party coverage
3. Fiduciary Liability
Coverage through NotforProfitins.com is backed by Philadelphia Insurance Companies, an A++ (superior) rated company by A.M. Best. Nonprofit Directors and Officers Insurance is available for, but not limited to, Alcohol and Drug Rehabilitation Center Insurance, Area Health Education Center Insurance, and Charitable Organization Insurance. Other organizations include: Counseling Centers, Daycares, English as a Second Language Programs, Food Banks, Fundraising Foundations, Goodwill Industries, Homeless Shelters, Mental Health Associations, Respite Care Centers, Tutoring Centers, Job Training, Women's Shelters, and Youth Associations.
Learn more about liability coverage for directors and officers - NotforProfitins.com - or call CPH toll-free at 800-875-1911.
CPH will be exhibiting in their home city of Chicago for the 40th Annual Association for Behavior Analysis International (ABAI) Convention from May 23 to 27. Come visit CPH at Booth #402 at the ABAI Convention to find out more about D&O Insurance Coverage for Nonprofits and Professional Liability Insurance offered by CPH & Associates.
About CPH & Associates
CPH & Associates began offering professional liability insurance coverage to mental health and allied health professionals in 1999. They have grown to insure more than 100,000 policyholders nationwide. With a dual focus on technology and customer service, CPH & Associates is able to provide "rare for this day," robot-free customer service and cutting-edge online application and policy servicing.
###