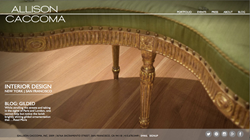 We are intrigued how each designer is able to create a unique yet harmonious space using fine and decorative works of art from a wide range of collecting categories. - Sotheby's
San Francisco, CA (PRWEB) March 09, 2015
San Francisco and New York City interior design firm Allison Caccoma Inc. proudly announces the launch of their new company website. The website features a fresh new look and an interior design blog that chronicles her travels, influences, inspirations and design vision through her own photos.
Concurrently, the firm is participating in two designer showcases, the Sotheby's Designer Showhouse in New York, from April 11-19, 2015, and The San Francisco Decorator Showcase from April 25-May 25, 2015.
Sotheby's Designer Showhouse
The second annual Sotheby's Designer Showhouse will be held on April 11-19, 2015 at Sotheby's Manhattan headquarters. Thirteen interior design firms will each decorate a room on the fifth floor exhibition space in New York City. The showhouse will be open to the public from 10am to 5pm and will culminate in a dedicated auction on April 20, 2015.
Allison Caccoma Inc. will curate a gallery room with a selection of art and antiques from an array of categories offered by Sotheby's, all of which will be available for purchase in the April 20th auction.
Architectural Digest will be the official media sponsor for the Sotheby's Designer Showhouse with Editor in Chief Margaret Russell hosting the opening night party on April 13, 2015.
As Sotheby's said, "We are intrigued how each designer is able to create a unique yet harmonious space using fine and decorative works of art from a wide range of collecting categories. The pairing and juxtaposition of the pieces in the curated interiors not only reflects each designer's own vision, but also illustrates the myriad types of objects Sotheby's has to offer both the seasoned connoisseur and to those who are new to the auction world."
Learn more about the Sotheby's Designer Showhouse.
San Francisco Decorator Showcase
The 38th Annual San Francisco Decorator Showcase runs April 25 – May 25, 2015 at 3630 Jackson Street in the Presidio Heights neighborhood of San Francisco. Allison Caccoma and her design team will be designing the 'Twin's Music and Playroom' in this 1916 Elizabethan mansion, designed by esteemed architect Julia Morgan. The home is an elegant four-story, offering more than 9,700 square feet of living space with six bedrooms and seven bathrooms. With a slate roof, a high-peaked gable, a beautifully glazed front door flanked by clustered columns, a gracious entry hall that remains as Morgan originally designed with a grand balustrade staircase and open sight lines through the expansive living room to the Bay and through the dining room to the garden patio, this showcase will be a must see.
The media sponsor for the San Francisco Decorator Showcase will be Hearst Magazines. This annual event benefits the scholarship fund for San Francisco University High School students.
Learn more about the 2015 San Francisco Decorators Showcase.
About Allison Caccoma
Former Wall Street Treasury Salesperson and native New Yorker, Allison Caccoma received her design education at the New York School of Interior Design. Upon graduation, she worked at the firm of design legend Bunny Williams. Under William's seven-year tutelage and mentorship, Caccoma had the opportunity to assist Bunny in decorating some of the country's most significant private homes including formal estates in Ohio and Connecticut, and Bunny Williams' personal seaside villa in Punta Cana, Dominican Republic.
Following one year with contemporary designer Jeffrey Bilhuber, she set out on her own, founding Allison Caccoma Inc. in 2006.
Allison Caccoma's design embraces a modern luxury that is rooted in classicism and inherent timelessness. Mixing the whimsy and elegance of the past with fresh color palates and interesting objects, she helps clients define and express their own tastes and visions to create a comfortable home that will endure ever changing trends.