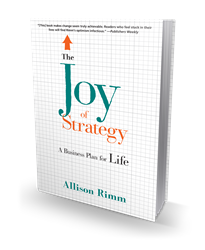 Your life is serious business, but who says you can't find joy along the way?
Boston,MA (PRWEB) February 02, 2014
Join Allison Rimm, strategic coach and author of The Joy of Strategy (Bibliomotion, September 17, 2013) for a book discussion and signing with The Women's Bar Association of Boston.
Life is serious business. Just as a business requires a mission and a plan, so does a joyful and fulfilling life. Learn how to achieve professional success and personal satisfaction with Allison Rimm's structured, step-by-step program to create a business plan for life.
Event details below:
When: February 12, 2014
Where: Sullivan & Worcester LLP, One Post Office Square, Boston
Time: 5:30 p.m. to 7:30 p.m.
Cost: $25 for WBA members, $30 for non-members
Price includes a copy of the book.
Light fare and beverages will be served.
RSVP at http://www.womensbar.com.
About The Joy of Strategy:
Your life is serious business, but who says you can't find joy along the way? As a person with unique gifts to offer, it is your responsibility to use your talents wisely and it is your right to enjoy yourself while doing so. Just as a successful business requires a mission and a plan, so does a fulfilling life. In The Joy of Strategy, Allison Rimm provides a structured, step-by-step program to create a business plan for your life. Through conventional business techniques and unconventional wisdom, The Joy of Strategy is the go-to guide for achieving satisfaction both in and out of work. Delivered with compassion and humor, The Joy of Strategy presents eight practical steps, useful tools such as the Joy Meter, and real success stories to help build and motivate your personal plan. With the perfect mix of soul and strategy, The Joy of Strategy will get you organized and on your way to a fulfilling life.
About Allison Rimm:
Allison Rimm is a strategic planning and management consultant, coach, and award-winning educator who inspires individuals and organizational leaders to create breathtaking visions and plans to make them come to life. She has merged her passion for teaching and mentoring with her strong executive skills to create her professional development programs and the popular Business of Life™ workshops. Allison is the former Senior Vice President of Strategic Planning and Information Management at Massachusetts General Hospital, a multi-billion dollar organization renowned for excellence and innovation. Now at the helm of Allison Rimm & Associates, she helps clients benefit from the leadership, governance, and complex project management expertise she has developed in over 20 years as a senior executive and management consultant across a variety of industries. Allison blogs for Harvard Business Review.
More about Bibliomotion, books + media:
Bibliomotion is a book publishing house designed for the new publishing landscape. While many publishers work to retrofit old processes for new realities, Bibliomotion was founded by book-industry veterans who believe the best approach is a fresh one – one that focuses on empowering authors and serving readers above all else. Moving away from the top-down model that has dominated the publishing process for years, we give each member of the team – including the author – a seat at the table from the very beginning and in doing so, work side-by-side to launch and sell the best content possible, making it available in a variety of forms.
There are no sure bets in publishing, but at Bibliomotion we believe there is a winning formula:
Exceptional Content – we select ideas very carefully and offer formats for all types of
Visible Authors – we select authors with many planks on the platform, and coach them to build more
Community Building – we build communities around our authors and ideas, and invite readers in
Good Will and High Touch – a spirit of close collaboration between author and publisher that translates to greater potential for our books
Fun – better be, or it's not worth doing.