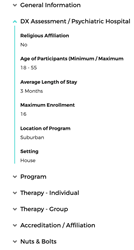 These facts reveal aspects of programming that prior to All Kinds of Therapy, only industry insiders were focused on learning.
PORTLAND, Maine (PRWEB) November 21, 2019
Google disclosed 1 in 20 of all online searches are healthcare related. Consumers want healthcare information and therefore, AllKindsofTherapy.com average session length is two minutes. Treatment programs that advertise must reveal a depth of facts like accreditation type, whether a therapist is licensed, clinical hours with clients, and types of evidence-based treatments or staffing ratios at troubled teens or young adults treatment and transitional living programs. "Like NBC's 'Must See TV' in the 1990's, parents are in front of their computers, researching intervention or treatment options. This is not casual mobile browsing or grab a phone number directory. Parents sit down, in front of a full sized screen, and search topics that keeps their attention," said Jenney Wilder, founder of AllKindsofTherapy.com.
Launching in 2015, AllKindsofTherapy.com changed the standard for rehab directories, from marketing bedrooms and photos of buildings, swimming pools, to provide a level of consumer transparency and features like comparing details side-by-side, like cars.com or electronics websites. "Families want to investigate treatment modalities, the treatment program's medical rule outs, family involvement, if the treatment program is accredited by Joint Commission, CARF or AEE and not have to jump from website to website." Wilder goes on to say, "These facts reveal aspects of programming that prior to All Kinds of Therapy, only industry insiders were focused on learning."
When the parent of a teen in crisis or a young adult is 'failing to launch' because their anxiety, depression, learning disabilities are revealing themselves in substance use, poor choices in friends, and outpatient therapy was unsuccessful, parents need answers, instead of promotion. Revealing treatment programs' clinical and operational facts turns a highly emotional decision into an unvarnished side-by-side comparison. AllKindsofTherapy.com allows parents to do the intense web research they need to make a difficult life decision. The website divulges what mental health disorders or co-occurring diagnoses a wilderness therapy program, therapeutic boarding school, residential treatment center, hybrid gap year or transition program are able to enroll. It demystifies the industry.
About All Kinds of Therapy
Launched in 2015, allkindsoftherapy.com is located in Portland, ME. An advertising based online treatment directory focuses on the Family Choice Behavioral Healthcare, substance abuse industries, wilderness therapy programs and supportive Gap Year options for troubled teens and young adults. The website allows consumers to research treatment levels, models, or varying interventions inside and outside the home. The feature rich website with robust filtering has advertisers in the United States, Puerto Rico and Costa Rica.