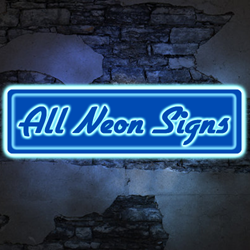 'We're excited about the prospect of connecting with our customers on a more personal level,' said All Neon Signs Owner Eligio Coniglio. 'We welcome everyone to connect with us through social media and on our new blog.'
Northborough, MA (PRWEB) October 26, 2013
Premier sign retailer All Neon Signs has been busy expanding their presence within social media in an effort to better connect with their customer base and provide expert, industry-related advice. One of their biggest projects has been the inclusion of a blog on their website AllNeonSigns.com.
The company understands that in today's digital business landscape opening up the lines of communication with customers is vital for all businesses. All Neon Signs owner Eligio Coniglio has high hopes for the website's latest addition saying, "we've wanted to add a blog for some time now, so it's exciting to see everything come together. We get questions from customers all the time on a wide variety of topics. The blog will be one more way we can share what we know with the people that use our signs."
From digital reach to search rankings, according to Social Media Examiner's 2013 Social Media Marketer Industry Report blogs are more important than ever for businesses of all sizes. It is also something that online consumers are beginning to expect from professional businesses, especially when it comes to mobile-optimized blogs.
Readers can expect to find the following categories on the new All Neon Signs blog:

Business Strategy
Business Signs
Nostalgic Signs
Sign Repair
Sports Memorabilia
Man Cave
Custom Neon Signs
Gifts for Men
All Neon Signs News & Events
The company has also recently expanded its social media presence on Pinterest, Google+, YouTube, Facebook, Twitter and LinkedIn. "We're excited about the prospect of connecting with our customers on a more personal level," said Mr. Coniglio. "We welcome everyone to connect with us through social media and on our new blog."
To learn more about All Neon Signs or to read the new blog, please visit: http://www.allneonsigns.com/.
About All Neon Signs
All Neon Signs is a national e-commerce website specializing in neon and LED Signs as well as custom signage. The company carries hundreds of high-end signs for both residential and business use. Customers can choose from stock signs or choose to design their own custom sign that will be made right here in the USA.