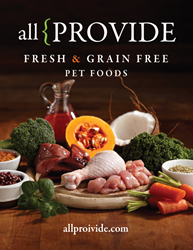 Historically, people fed their pets table scraps. Then, as manufacturers introduced processed food products as a 'convenience'. Incidentally, that's when we started seeing digestive illnesses in pets.
NORCROSS, GA (PRWEB) February 16, 2015
Allprovide, the all-natural raw pet food company, plans to shake up how dog and cat owners view their pet's diets. Unlike most pet foods, Allprovide uses only premium, human-grade ingredients, including USDA select meats and grade A poultry, combined with fresh vegetables to create healthy meals for cats and dogs.
"Dogs and cats were not built to digest processed foods," explains Michael McVay, co-owner of Allprovide. "Yet, so many of us feed our pets processed food every day, which can lead to serious illnesses impacting their quality of life and driving up large vet bills. We created Allprovide based on the nutritional needs of our pets and my experience as a chef - and the results are clear. Dogs and cats that switch to Allprovide's diet are healthier."
Allprovide is based out of Norcross, Georgia where they've invested $2 million in a state-of-the-art, climate controlled facility. The fresh ingredients come from select Georgia farmers and farmers' markets and all of the food is triple-tested for quality and to eliminate natural pathogens.
Meal options include chicken, turkey or beef and the recipes are gluten, grain and soy free for dogs sensitive to allergies. The all-natural pet food can be served raw – mimicking how animals eat in the wild. Or, pet owners can choose to cook the food in Allprovide's convenient pouches, which can be microwaved or boiled. The meals are delivered right to your door through http://www.allprovide.com
HOW PETS WENT FROM NATURAL TO PROCESSED FOODS:
"The humanization of our pets started in the post-war era," added McVay. "Historically, people used to feed pets table scraps. Then, as pets became family members, manufacturers introduced processed food products as a 'convenience'. Incidentally, that's also when we started seeing digestive illnesses, as well as bone, joint and skin problems in our pets."
Spending by U.S. pet owners is at an all-time high at around $22.62 billion on pet food; $14.4 billion on vet bills and $13.1 billion on over-the-counter medicines (source: APPA.)
THE GROWING RAW PET FOOD TREND:
As consumers have become more concerned about the food they are eating, they are making the raw pet food diet one of the fastest-growing U.S. trends.
In 2010, the refrigerated raw dog food market grew 10 percent over prior year and sales jumped to $92 million in 2013. Analysts expect the segment to grow by 25 percent annually through 2015 (source: U.S. Pet Market Outlook 2011-2012).
Despite the market opportunity, Allprovide's origins come from something more personal than profit.
"We started making this food because of our own dog's health problems," McVay added. "After an expensive surgery, our vet suggested we change her diet, so we started researching commercial pet food and we were shocked by the ingredients. There was no food in the food. Yes, pets can survive on processed commercial pet food, but do we really want them to just survive? If you fed your child McDonald's every day, he would live, but he wouldn't be very healthy. We love our pets like our children; so why not feed them that way?"
ABOUT ALLPROVIDE:
Allprovide fresh pet food is an all-natural raw pet food made of USDA select meats and USDA grade A poultry. We blend these together with wholesome, fresh vegetables and all natural ingredients to produce balanced complete meals that meet the AAFCO guidelines for nutrition. Allprovide foods are based on the Bone and Raw food diet, but made convenient and safe. We are proud to say that our pet food is made in America and we only buy human grade, restaurant quality ingredients as our goal is to make the best pet foods possible. http://www.allprovide.com
Media contact:
Jennifer Jones, 404-272-2641
jennifer(at)andersonjonespr(dot)com
####