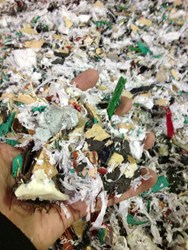 Shred it & forget it!
Mansfield, Massachusetts (PRWEB) August 13, 2013
Northeast Data Destruction, a NAID "AAA" Certified company, and a division of Miller Recycling Corporation, is launching a new "All Shred" program. The company now offers the ability to process a very diversified range of materials, and not just paper documents like so many other "shredding" operations. "We continually receive calls from a diverse set of customers, looking to have off-spec or overstock items destroyed. We accommodate these clients whenever possible" said Randy Miller, Company President.
What type of materials can Northeast Data Destruction process? "In addition to paper, hard drives and tapes, we have destroyed jewelry, medical products, shoes and hats, even leather jackets and fur coats. One of the most difficult and hardest to destroy where bullet proof vests which we received from a government agency. We do not ask why you need them shredded; we just shred it", said Scott Robitaille, Facility Manager for over 10 years, and with the organization for over 25 years. "Following the shredding process the customer is issued a "Certificate of Destruction", and the process is complete," said Scott.
Their "All Shred" program has been placed in hospitals, medical facilities, manufactures, government offices and agencies, and other businesses that require secure and confidential disposal of all materials. These materials are removed, transported and processed to NAID standards. Northeast Data Destruction strives to recycle all materials when possible once the process is complete.
Northeast Data Destructions goal is to provide the highest level of confidential security for all our clients.
You can follow this company on:
Twitter- https://twitter.com/TimetoShred
Facebook- https://www.facebook.com/NEDEST
For more information please visit http://www.millerrecycling.com/what-we-do/compliant-destruction/ , Or call 800-783-6766
About Miller Recycling Corporation
Operating since 1940, Miller Recycling is a third generation company with the experience required to assist with all paper, metals, plastics, and electronics recycling requirements. Northeast Data Destruction, our NAID "AAA" Certified confidential shredding division, will securely process all your sensitive documents, files, media, hard drives, tapes, CD's, off spec products and storage components.