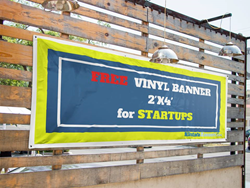 (PRWEB) July 31, 2017
AllStateBanners Corp, one of the first American online printing companies, decided to show their support to uprising startup companies by offering them free 2x4 vinyl banners. This occasion is not the first time that AllStateBanners actively participates in promoting the "new blood" of the American economy. Numerous times in the past they have sponsored the biggest events that showcase the new businesses and fresh ideas ( TechCrunch Disrupt, Twillio, etc.)
"AllStateBanners Corp was once a startup itself, faced with learning the hard way the pulse of the market, competition and creating the business strategy. We've been there and know how difficult every beginning is. That's why we choose to help by offering free 2x4 custom printed banners to all startups," stated Peter Panagi,CEO.
This company grew in one of the leaders in American printing industry. Visit their website http://www.allstatebanners.com for more information.
*To redeem your complementary 2x4 banner enter the promo code "FREE2X4" at the checkout.
The offer is valid till August 30th, 2017.