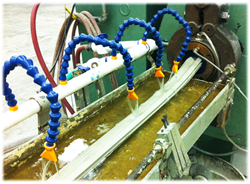 Tinley Park, IL (PRWEB) October 21, 2015
Allstates Rubber & Tool Corp. announces the availability of a new thermoplastic extrusion line. Aerospace, electronics, medical suppliers and other manufacturers with unique needs can turn to new extruded materials as a cost-savings option.
Manufacturers using thermoplastic extrusions have seen cost savings with material and energy usage. Cost savings come through a reduction of energy use by operating at lower temperatures, curing time reductions, easier processing, and improved ability to recycle scrap. Additionally, thermoplastic parts are more environmentally friendly as they are more easily recycled than their rubber components.
Consumers and manufacturers are familiar with thermoplastic extrusion even if they don't realize it. The seals used in refrigerators, and many other objects we interact with daily are created with these materials.
Allstates' new thermoplastics lines will include tubing, solid cord, u-channels, and profiles in many shapes including t-strips and p-strips. These shapes can be run in profiles from .062" thick to as big as 3" diameter.
Industries that can immediately take advantage of Allstate Rubber & Tool Corp.'s thermoplastic extrusions include:

Aerospace
Automotive Interiors
Consumer Industries
Electronics
Food Contact
LED Lenses
Medical, Including FDA compounds
Services offered by Allstates Rubber & Tool Corp. meet a wide range of industry standards including military and defense specifications, FDA regulations, and American Society for Testing and Materials.
Manufacturers should look to Allstates Rubber & Tool Corp. to see if they can start reducing production costs today. To learn more, speak with an Allstates representative.