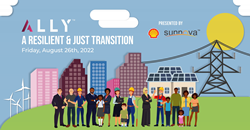 "We know we can effectively mitigate climate change, implement resilient strategies, and address the needs of our most under-resourced communities - without leaving anyone behind." - Sylvester Turner, Mayor of Houston Texas.
HOUSTON (PRWEB) August 16, 2022
To commemorate the fifth anniversary of Hurricane Harvey, the Houston energy community, brought together by ALLY Energy, is convening with the US Department of Energy (DOE) to explore the progress Houston has made since 2017 on climate resiliency and on ensuring a just energy transition. Hurricane Harvey was a significant recent reminder of the critical need for climate resilience and for the transition to net-zero economies to be inclusive and just – so no one is left behind.
"A just and inclusive energy transition doesn't happen without a strong partnership between the private and public sector. We are proud to host DOE and honor the mayor for creating and adopting a city-wide Climate Action Plan and representing Houston on a national level as the Chair of the Climate Mayors," said Katie Mehnert, CEO of ALLY Energy.
Following a series of informative meetings around Houston, the DOE visit will culminate in a luncheon on Friday, August 26 during which Mayor Turner, the DOE, and Houston energy leaders will discuss the lessons learned over the last five years and what a just energy transition means for our community. ALLY Energy will also present Mayor Houston with its first Lifetime Achievement GRIT Award for his work on climate resiliency.
"I am honored and humbled to accept the first ALLY Energy Lifetime Achievement GRIT Award," said Mayor Sylvester Turner. "Houston has faced seven federally declared disasters in seven years. Yet, our city proves time again that we are strong and resilient as we build toward the future. We are the energy capital of the world while leading on energy transition. We know we can effectively mitigate climate change, implement resilient strategies, and address the needs of our most under-resourced communities - without leaving anyone behind."
"We applaud Mayor Sylvester Turner and our fellow energy leaders for the important work our city is doing to ensure Houston is leading the charge in accelerating a just energy transition," said William J. (John) Berger, Chief Executive Officer of Sunnova Energy International. "If the current global energy crisis has taught us anything, it's that our country, and our home state of Texas, must come together to support a resilient energy transition by ensuring we address energy affordability, safeguard energy security, and mitigate climate change in the face of growing economic hardship and extreme weather events."
Also at the lunch, the audience will get to experience a film premier from the Rational Middle, a documentary that highlights experts in environmental justice and aims to clarify how we can take advantage of the opportunities of a just transition.
"We believe for the U.S. to make progress and to achieve its net zero goals, everybody has to feel they are part of the energy transformation," said Shell USA, Inc. President Gretchen Watkins. "As we all build a cleaner energy future together, Shell USA will continue to focus on how we create economic, social, and environmental value in our communities and nationwide. We are very proud to partner with Shell USA's hometown, Houston, on its path toward climate resiliency."
INFORMATION ON THE LUNCHEON
Houston has long been known as the oil and gas capital of the world. As it transitions itself to the energy capital of the world, how can it ensure a just transition? Attend the limited-seating event by registering here. We are grateful to our sponsors, Shell USA, Inc. and Sunnova Energy, for helping to make this important event a reality.
ABOUT ALLY ENERGY & THE GRIT AWARDS
ALLY Energy is the leading energy workforce platform that builds culture, careers, and skills for an equitable transition. ALLY connects the energy industry and public to resources and best practices and serves as a neutral platform for dialogue and actions to address the energy transition. The community includes professionals and startups in 120 countries in nearly 1,000 companies across energy in oil and natural gas, utilities, renewables, and climate technology. The annual GRIT Awards℠ & Best Energy Workplaces℠ were created to honor industry leaders, professionals, academia, students, and public servants for their achievements in driving a just, equitable, diverse, and inclusive energy transition.