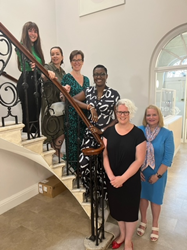 "ALLY Energy is thrilled to be the first and only US company to participate in this historic transatlantic allyship. WENA leaders are dedicated to a cleaner future. Together, we will lead the charge toward net zero and ALLY will serve as the platform to connect professionals to jobs," Katie Mehnert
HOUSTON (PRWEB) January 17, 2023
ALLY Energy has joined the Women's Energy Network Alliance (WENA), a newly formed organization based in the United Kingdom.
ALLY Energy is an online workforce development platform for professionals working and seeking work in the global energy industry. WENA is an umbrella of various initiatives and member organizations that specialize in supporting women at a variety of career levels, energy industries, and disciplines.
WENA will hold its first Annual Conference on Tuesday, March 14, titled "Striving to thrive in a transitioning sector." Details of the conference and how to register will be released in the near future. ALLY Energy has also invited WENA members and leaders to participate in the Annual Energy Workforce of the Future Summit, where it will release workforce research on Monday, March 6 from 9 a.m. to 2 p.m. CT at the Petroleum Club of Houston. To learn more please visit here.
WENA members include ALLY Energy, Women in Nuclear, POWERful Women, Lean In Equity & Sustainability, Women's Utilities Network (WUN), ReWiRE, District Heating Divas and Full Circle 21. With their collective motto "Leave no woman behind!", each organization is committed to sharing its best practices and collaborating to support the entirety of the female energy workforce – from championing STEM outreach for girls to progressing senior women to the C-suite; and from focusing on engineering, renewables or nuclear sectors, to covering the whole energy industry.
"ALLY Energy is thrilled to be the first and only US company to participate in this historic transatlantic allyship. The Women's Energy Network Alliance is a powerhouse of energy leaders dedicated to a cleaner future. Together, we will lead the charge toward net zero with innovation, tenacity, and resilience, and ALLY will serve as the platform to connect professionals to jobs," commented Katie Mehnert, ALLY Energy founder and chief executive officer. Mehnert is also an ambassador for the United States Department of Energy and a Representative to the National Petroleum Council.
This allyship which supports the rights of minority or marginalized groups was founded on one common mission: to make much faster progress on female representation in the energy sector to meet the urgent energy transition challenges today and in the future.
"We're happy to partner with representatives from the US and UK to advocate for women in all aspects of the energy industry. We are confident that the Women's Energy Network Alliance will be beneficial to women of all ages and at all stages of their careers," commented Grace Kimberley, Women's Energy Network Alliance project manager.
For more information about the Women's Energy Network Alliance please contact info@wena-uk.org.
For more information about ALLY Energy please visit here.