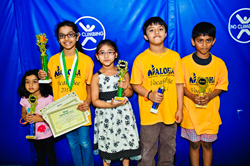 Edison, NJ (PRWEB) January 30, 2015
ALOHA learning centers announce that sign ups begin in February for their Vocab Bee - a fun way to get kids to learn new words. Open to the public, the Vocab Bee is held at local ALOHA learning centers in 18 states across the country.There is a $10 entry fee and all students receive a t-shirt and certificate, winners get medals and trophies. See more info and a short video at http://alohamindmath.com/VOCAB.
How Does the Vocab Bee Work?
Many children know all the words to the songs in the movie Frozen, but freeze up when they see a new word in a book. ALOHA's Vocab Bee can give kids confidence in learning and using new vocabulary words during this fun event. First, find an ALOHA learning center in your area http://alohamindmath.com/locations/. ALOHA is in 18 states across the US.* Then contact the center for the February registration dates and sign up your 1st through 5th grade children in the event. The center will have the exact dates in May/June of the Vocab Bee in your area.
What is Included in the Event?
The cost is $10 and each child receives a Vocab Bee practice book. Before the event, parents should help children practice. On the event day, children come together at the competition and participate in a fun and energy-filled learning event. Upon completing the Bee ALL children receive a t-shirt, certificate, and medal. Winners at each grade level receive trophies.
States that Have ALOHA Learning Centers*
The Vocab Bee is held at individual ALOHA centers in the 18 states where ALOHA has locations including: AL, AR, CA, CT, FL, GA, IL, NC, MA, MI, MO, NH, NJ, NY, OH, PA, TX and VA.
What is ALOHA?
Launched in the U.S. in 2006, ALOHA is a leading provider of mental arithmetic and English Reading/Writing programs, has been guiding children between the ages of 5 through 12 to achieve academic excellence in grades 1 through 5. The interactive learning process is proven to enhance a child's math, reading and writing capabilities. The teachers also assist children in developing skills and abilities such as observation and listening that result in the overall growth of the child. ALOHA is currently training children in 18 states and in 20 countries with 4,200 different centers.
For more details on this unique program please visit our website and search for the center closest to you by using our locator http://www.alohamindmath.com/locations.