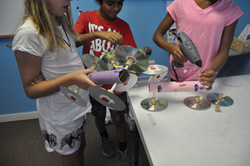 Summer Camps like those held at ALOHA learning centers in 19 states across the US help student combat Summer Slide that shows a loss of learning when tested before/after summer w/o academic programs
Edison, NJ (PRWEB) February 23, 2017
Registration is open for all of ALOHA Mind Math's interactive summer camp programs - from "STEMmer Camp," a STEM (Science, Technology, Engineering & Math) summer camp for 10-14 year olds, to their half-day Summer Reading Camp for kids grades 1-5. Also available is their accelerated-pace Math, Reading | Writing camps for ages 5-12. Visit http://alohamindmath.com/summercamp-temp/ for more information.
Summer Camps like those held at ALOHA learning centers in 19 states across the US help student combat Summer Slide – studies show that students who do not engage in summer learning actually score lower on standardized tests at the end of summer than they did at the beginning. ALOHA has created summer camps with an engaging learning format to keep children having fun, while they are learning key concepts. ALOHA has locations in AL, AR, AZ, CA, CT, FL, GA, IL, MA, MI, MO, NC, NH, NJ, NY, OH, PA, TX, VA.
ALOHA Summer Reading Camp for grades 1 - 5:
Helps children rediscover the joys of reading, while engaging in creative writing. Carefully selected grade level reading, often using popular children's books, keeps things fun. The teacher-led exercises support common core reading & writing issues. Teachers also focus on improving vocabulary skills.
ALOHA's Math & Reading | Writing Accelerated Pace programs for ages 5 - 12:
Instead of meeting once a week, the summer programs are held at an accelerated pace - 5 days a week; either half or full-day. This accelerated pace allows children to build on what they learned the day before and grow their skills and confidence in either Math or Reading | Writing. Both children who are high achievers and those needing extra help with these subjects, can benefit from ALOHA's teacher-led camps.
STEMmer Camp for 10-14 year olds:
To interest older students across the U.S. in STEM (Science, Technology, Engineering & Math) careers, and help combat summer learning loss, ALOHA Mind Math added this STEM camp. According to studies, middle school is when children begin to form their career paths. This interactive gaming-based summer camp, combines the computer-based learning "missions" along with teacher-led projects.
Registrations have already begun for all camps. For more information regarding ALOHA Summer Camps check with your local ALOHA center;* http://alohamindmath.com/summercamp-temp, or 877-256-4203.
*Each ALOHA learning center is independently owned and operated; participation may vary. Contact a local center directly for details and to see if they are participating. For more information: Click here for info on the website, check the ALOHA Facebook page or call 877-256-4203 to find if a local center is participating in these programs.
ALOHA
Since 2006, ALOHA Mind Math, a leading provider of mental arithmetic and English Reading | Writing after school programs, has been guiding children in the U.S. between the ages of 3 through 14 to achieve academic excellence in these grades. ALOHA is currently training children at over 120 locations in 19 states across the U.S. Programs also include a Tiny Thinkers pre-school program for ages 3-5, and a STEM summer camp for 10-14 year-olds. The interactive learning process ALOHA uses enhances a child's math, reading and writing capabilities. The teachers also assist children in developing skills and abilities such as observation and listening that result in the overall growth of the child. The ALOHA program is also in use in 20 countries worldwide.
For more details on these unique programs please visit http://www.alohamindmath.com or search for the center closest to you by using our locator http://www.alohamindmath.com/locations.