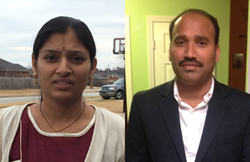 We are very excited to bring ALOHA'S unique teaching methods in math, reading and writing to children in northern Arkansas.
Edison, NJ (PRWEB) December 10, 2014
ALOHA opens a new math and reading | writing learning center in Bentonville, Arkansas. ALOHA's new center in AR is holding its grand opening on January 7, 2015, and Bentonville Mayor McCasli plans to attend the ribbon cutting ceremony at 10 a.m. Interested parents are welcome to attend the opening. The center is located at 100 SW 14th Street, Suite 2, Bentonville, AR, 72712. For information: bentonville(at)aloha-usa(dot)com or 877-ALOHA-03 or ALOHAMindMath.com.
Marking the 19th state into which ALOHA has expanded, the AR center will bring the company's reading | writing programs and their signature mind math program called ALOHA Mind Math; ALOHA stands for "Abacus Learning of Higher Arithmetic." An abacus is an ancient calculator tool used by sliding beads to count. If it sounds too simple to work, people might be surprised to learn that these instructor-led, small-class-size, math tutoring sessions teach children to solve complex arithmetic questions—think (128+432-46+514)/82—in their heads more quickly than most people can on a calculator. It can also help kids overcome math anxiety. The centers also offer a teacher-led reading | writing program to inspire children to read and write easily. The program works to motivate young minds and to develop a passion for reading and writing spontaneously. The programs ALOHA will be bringing to AR are designed for Grades 1-5, and ages 5-12.
"ALOHA Mind Math is pleased to be extending our math and reading | writing learning centers into Arkansas. This will be the 19th state where our programs help children achieve their potential," said Mani Manickavelu, President and CEO of ALOHA Mind Math.
"We are very excited to bring ALOHA'S unique teaching method to children in northwest Arkansas. There is a need among many students to learn more ways gain confidence in math and writing, and to expand their capabilities," said new ALOHA center owners Murali Krishna Chittemsetty and Dhana Lakshmi Varikunta.
The after school or evening academic enrichment programs provided by ALOHA Mind Math offer children life-long skills through their elementary school programs. Parents who want to give their high-achieving children more tools to help them excel will find ALOHA's enrichment programs helpful. For children who need math help or improved reading and writing skills, ALOHA gives them a broader skill set to help them do better in school.
ALOHA
Founded in 1993, ALOHA Mind Math, a leading provider of mental arithmetic and English Reading/Writing programs, has been guiding children between the ages of 5 through 12 to achieve academic excellence in grades 1 through 5. The interactive learning process is proven to enhance a child's math, reading and writing capabilities. The teachers also assist children in developing skills and abilities such as observation and listening that result in the overall growth of the child. ALOHA is currently training children in 19 states and in 20 countries with 4,200 different centers.
For more details on this unique program please visit http://www.alohamindmath.com or search for the center closest to you by using our locator http://www.alohamindmath.com/locations.