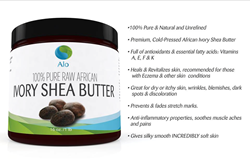 The secret to unbelievably great skin!
San Francisco, CA (PRWEB) April 24, 2015
It's that time of year again: the sun's out and the weather is getting warmer. Extra sun exposure and dramatic temperature changes can hurt the skin. This summer, ALO is introducing their first product: 100% Organic African Shea Butter. ALO carefully picked this unrefined Shea Butter to make certain none of the health benefits of natural Shea Butter were compromised. In its purest form, Shea Butter has many skin benefits. It is comprised of Vitamins A, E, F and K: 4 vitamins known to be fundamental for healthy skin. ALO was started by two women out of San Francisco, CA who set out to find solutions for common skin and health concerns. ALO is launching Organic Shea Butter as their first product due to the overwhelming disappointment with everyday skincare products. It is problematic that most lotions on the market have water as the first ingredient. Water is good for the skin when consumed, but a simple washing of the hands will reveal how water dries skin upon contact. According to the National Eczema Organization, over 30 million Americans suffer from Eczema and another 50 million have dry skin. Water and harmful chemicals are not effective in genuinely moisturizing skin. ALO's Shea Butter is natural and does not contain water or any other foreign chemicals; only the vitamins that naturally occur in the Shea Butter itself when it is first cracked from the nut of the African Karite Tree in Ghana.
Dawn Amador, expert and owner of Skin Logic in the San Francisco Bay Area calls it, "amazing for the skin… it is really high in vitamins and is really going to help heal the skin and help give elasticity back to the skin. I really love this even for simple skin dryness; it is a wonderful thing to have around the house." ALO Shea Butter is best for dry skin, skin damage, Eczema, stretch mark fading and prevention, fading wrinkles and boosting elasticity in the collagen. It also contains SPF and is highly effective in repairing skin from sun damage or scarring. ALO's Shea can be used straight out of the jar or mixed or melted into lavender oil or other essential oils for specific skin care remedies or for smell. Some lather up before bed and after a shower; others melt it and mix it with an essential oil to give it an extra dynamic and fragrance. We are excited about the launch of this helpful product. The jar comes with a pound of Shea Butter; this can easily last well past summer and through the year.
Find us at:
Amazon.com, Search: ALO Shea Butter
http://www.amazon.com/gp/product/B00TEROMAE
http://www.aloproductsonline.com