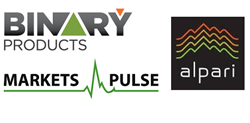 We are committed to providing our clients the best trading experience...this will be accomplished with the cooperation of our partners Binary Products and MarketsPulse." Boris Shilov, CEO at Alpari
London (PRWEB) February 20, 2014
Due to the success and trader demand of their binary option trading site thus far, Binary Products with its partner Alpari.ru plan to continue launching new developments with technology partner MarketsPulse.com. In 2014 Alpari will increase their binary options trading availability by offering the ability to trade from multiple mobile devices, and they will also offer more trading choices by adding new options.
Offering an international site in Russian and English, http://alpari-forex.com/, Boris Shilov, CEO at Alpari says, "We are committed to providing our clients with the best trading experience. As the leaders in the online trading industry, our binary options product will be of no exception in case of running customers interest, and this will be accomplished with the cooperation of our partners Binary Products and MarketsPulse."
Shay Hamama, VP of Business Development at MarketsPulse comments, "With only a short time since Alpari's launch in September, we are pleased with the success of the product and proud to be working with Binary Products which provide its service to such a company as Alpari.RU. We look forward to launching some new and exciting technology with them in 2014."
About MarketsPulse
MarketsPulse is the binary option platform provider choice for leading regulated brokers such as Binary Products & Alpari.ru, AVA Trade, Hantec Markets, FXTrade Financial and more.
MarketsPulse platforms combine sophisticated engineering with a deep understanding of global financial markets. Providing a stand-alone and fully integrated platform, solutions include mobile applications, a download application, HTML 5 website, an advanced admin with comprehensive risk management tools, a 360-degree view CRM and more. For more information, please visit http://www.marketspulse.com/.