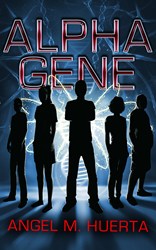 If you add imagination to the equation, then anything is possible.
Burbank, California (PRWEB) August 12, 2013
Angel M. Huerta made history in the Mexican film industry when he wrote and directed the first Mexican Sci-Fi super production in the country. Filled with visual FX´s never before witnessed in a Latin American film, the movie was immediately nominated for the Ariel, the Mexican Oscars. Angel M. Huerta later moved to Hollywood to continue his filmmaking career and is now attached to some interesting Hollywood projects.
But the year 2013 marked the filmmaker´s debut as a novelist.
Alpha Gene is already causing a stir with critics and general public because of its appealing type of storytelling. Angel M. Huerta´s literary style is being compared alongside great names like J.K. Rowling and Stephen King. Considered an easy but compelling read, Alpha Gene is quickly winning over the hearts of young readers.
What the book is about:
Ever since he was a young boy, he´s been fascinated by the 10% theory; that one that speaks about how humans only use an effective 10% of the brain´s full capacity. Now a successful scientist, Doctor Lucas McKenna, has the time and means to pursue his research on developing a strain that could activate the rest of the brain matter that presumably lies asleep. But the sudden death of his long time friend and partner, and the fact that he´s accused of his murder, takes him on an unexpected journey into the small town of Temple Ville, where he learns nature´s plan for evolution is already on the way.
A new generation is here, loaded with super talents. Telekinesis, mind reading, invisibility, super strength, healing miracles and much more.
Available on Paperback and ebook formats, you can now find Alpha Gene on Amazon Kindle, Nook, Barnes and Noble and many other book stores around the country.
For more information, contact us at info(at)whitegoblin(dot)com.