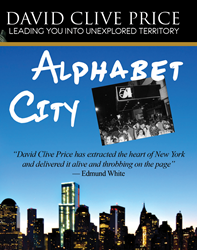 David has extracted the heart of New York and delivered it alive and throbbing on the page - Edmund White
Lonodn, UK (PRWEB UK) 25 August 2014
Set in the Lower East Side of Manhattan, Alphabet City (Avenues A-Z) follows the fortunes of Peter as his marriage disintegrates in a welter of suspicion and accusation. Escaping his past as a Cambridge music lecturer, Peter attempts to recreate his identity by fleeing to America.
There he is drawn into the bleak sub-culture of lower Manhattan and at the same time into a devouring relationship with Joe, a black actor. The two of them leave on a daredevil trip, running drugs through the Southwest from the Grand Canyon to Los Angeles, a trip that takes on the mysterious contours of pursuit and self-destruction.
Edmund White leading US novelist writes of Alphabet City: 'David Clive Price has extracted the heart of New York and delivered it alive and throbbing on the page. This is the underworld that few tourists ever see. David Clive Price has seen it with great clarity.'
Alphabet City is the second in a tetralogy of suspense novels called 'Unexplored Territory', which deal with family, work and relationships in a cross-cultural setting. The first in the series was 'Chinese Walls', a story of love and corruption set in the business world of London and Hong Kong in the late 1990s.
All David's books are available as paperback and Kindle on Amazon.
About David Clive Price
With 27 years' experience of Asia business, David Clive Price helps Western companies, SMEs and entrepreneurs to launch and expand in Asian and international markets through an intensive system of cultural intelligence.
His International Business Passport consulting packages and bestselling Master Key Series of cultural primers offer proven strategies for building profitable partnerships and gaining competitive advantage. David has also published a series of travel, fiction and cultural books about Asia, including the recently published travel book, 'Phoenix Rising: A Journey Through South Korea'.