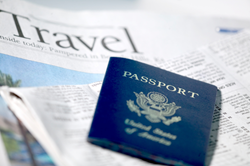 San Bruno, CA (PRWEB) November 05, 2014
Alpha Flight Guru, an international travel agency, encourages travelers to purchase travel insurance to cover trips outside the United States this holiday season. Full flights, severe weather and over bookings may cause travelers to miss their flights during the holidays. Travel insurance may cover these issues. However, many Americans ignore the warning of their travel agents and forego purchasing insurance. This seemingly unnecessary purchase may just be the difference between "peace of mind" and "losing your mind" when things go wrong during holiday travel, business trips or a vacation. Travel insurance covers many travel traumas, such as, natural disasters, flight delays and medical issues.
According to a US Travel Insurance Association (UStiA) survey, one in six Americans experienced travel disruptions by natural disasters, delays or medical problems between Spring 2012 and Fall 2013. While these numbers might not raise a huge red flag to readers, hopefully it's enough to draw attention and perhaps a second consideration.
Travel is pricey, especially international journeys. Business class tickets alone cost $1000s of dollars, even at a discount. Tacking on additional costs certainly causes a sting to the purchaser. Yes, the travel agent does make a small commission on travel insurance purchases; however, the benefits to the traveler should far outweigh the cost. While some agencies pay for a hotel room overnight should a traveler miss a connecting flight due to delays or other potential causes, the same agencies might not be so accommodating when someone is injured while parasailing and needs to change returning flights.
As most people know, it's better to be safe than sorry. In retrospect, many travelers could have saved themselves a world of headaches if their actions were proactive and the "what-ifs" were considered. Obviously, anticipation for all things that could go wrong is impossible. Why risk the trip of a lifetime or a business trip to meet an important client?
Additional benefits to consider when looking at travel insurance include replacements of lost or stolen passports, location of legal assistance, emergency hotels, even flying relatives to join ill or injured travelers. This additional assistance is particularly helpful when traveling to a foreign country where the first language is not easily spoken. Additionally, knowing another emergency number to dial is available is a precious thing during critical situations.
In some cases, travel agents pay a portion of the travel insurance fees because insurance benefits both parties. Protection against responsible parties and the possibility of lawsuits in rare or difficult situations is something neither the traveler nor the agent wants on their plate. Travel insurance may eliminate confusion and keep the travel agent and traveler paired closer together in times of great difficulty.
With so much thought and effort going into the rest of the planning travel requires, Alpha Flight Guru finds it is equally as important to add a good travel insurance policy to the list. For travel inquiries, visit our website or call 800-359-5175.
About Alpha Flight Guru
Alpha Flight Guru was founded by a small group of individuals with over 30 years combined travel experience and has been serving the airfare needs of business and leisure travelers alike since 2010. Alpha Flight Guru carries a strong, global online presence with their headquarters based out of San Bruno, California, and additional locations in New York, Arizona and Pennsylvania.
Alpha Flight Guru specializes in business and first class international airfare, and typically saves travelers thousands over competitors by utilizing their extensive knowledge of the airline industry. Accredited by many travel organizations and supported with an 'A' rating by the Better Business Bureau, Alpha Flight Guru provides the best of online interaction and personal phone service.