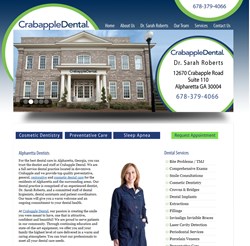 I will continue to do my best to serve my patients everyday, and to constantly maintain and upgrade my skills to ensure that I can provide the best modern dental care available. - Dr. Sarah Roberts
Atlanta, GA (PRWEB) January 10, 2014
Crabapple Dental, a comprehensive dental practice located at 12670 Crabapple Road, Suite 110 in Alpharettta, has been named "Best Dentist" in North Fulton and South Forsyth counties for the year 2013. This prestigious honor was awarded by Appen Media Group, publisher of a variety of online and home-delivered publications including Northside Woman, Alpharetta/Roswell Review & News, and Answerbook. Appen Media Group's publications target affluent readers who live in the gated communities throughout Alpharetta, Roswell Cumming, Johns Creek and the surrounding communities north of Atlanta.
The "Best Dentist" designation is based on consumer reviews and feedback as well as a number of other key measures. It will serve to further set Crabapple Dental apart from their competition in the popular and growing communities north of Atlanta. When asked about her recent recognition, Dr. Sarah Roberts had this to say: "I am honored to be the winner of the 'Best Dentist 2013' award in North Fulton and South Forsyth counties. I will continue to do my best to serve my patients everyday, and to constantly maintain and upgrade my skills to ensure that I can provide the best modern dental care available."
The complete listing of winners and finalists can be found in the 2013 Answer Book, published by Appen News, or online in the e-edition at http://www.northfulton.com.
About Crabapple Dental:
Crabapple Dental is a full service dental practice located in downtown Crabapple. They provide top quality preventive, general, restorative and cosmetic dental care for the residents of Alpharetta and the surrounding areas. If you would like more information about Crabapple Dental, please visit their website at http://www.crabappledental.com or contact their office at 678-379-4066.