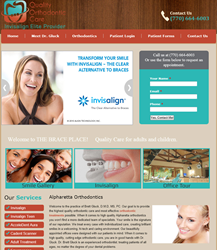 I am honored to be named an Invisalign® 2014 Elite 1% Provider... the Invisalign® system is a superior alternative to braces because it offers a more comfortable, hygienic and aesthetically pleasing method for straightening teeth. - Dr. Brett Gluck
Atlanta, GA (PRWEB) February 27, 2014
Quality Orthodontic Care, an orthodontic practice with offices in Alpharetta and Johns Creek, Georgia, is pleased to announce that their orthodontist, Brett Gluck, D.M.D., MS, has been named an Invisalign® 2014 Top 1% Provider. This prestigious title is given to only 1% of dentists/orthodontists in North America. To be eligible, dentists/orthodontists must complete a specified number of Invisalign® cases and demonstrate a proficiency in this advanced orthodontic technique. Dr. Gluck has been utilizing Invisalign® orthodontic treatment to help his patients achieve straighter teeth since 2000, only one year after they were first introduced into the marketplace in 1999. As a result of this honor, Dr. Gluck's Invisalign® patients can feel confident in his experience with and mastery of the Invisalign® system.
Invisalign® invisible braces are a revolutionary orthodontic system that enables patients to straighten their teeth without having to wear traditional metal braces. The Invisalign® system utilizes a series of custom-made, clear aligners that are worn over the teeth to gently move them into the desired position. The aligners can be removed while eating or brushing and flossing, which results in improved dental hygiene. This advanced orthodontic system provides a great option for teens and adults who want to straighten their teeth without other people even realizing that they are undergoing treatment. When asked about this award, Dr. Gluck stated that "I am honored to be named an Invisalign® 2014 Elite 1% Provider. I believe that the Invisalign® system is a superior alternative to braces because it offers a more comfortable, hygienic and aesthetically pleasing method for straightening teeth."
About Dr. Brett Gluck:
Dr. Brett Gluck is an orthodontist at Quality Orthodontic Care, a family orthodontic practice with locations in Alpharetta and Johns Creek, Georgia. Quality Orthodontic Care offers a full range of treatments for children and adults of all ages. If you would like to get more information about Dr. Gluck or Invsalign® , please call their office at (770) 664-6003 or visit their website at http://www.bracedoctor.com.