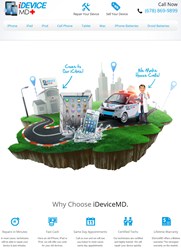 Our expansion is in response to a growing need in the market for a quick, easy and convenient means for repairing electronic devices.
Dru Pio - President iDeviceMD
Atlanta, GA (PRWEB) August 01, 2013
iDeviceMD, a national electronic device and cell phone repair company, has opened its fourth location in the greater Atlanta metropolitan area. The new store will be located in Alpharetta and will provide iPhone Repair, iPad Repair, iPod Repair, and Samsung Galaxy Repair services for consumers in Alpharetta and the surrounding areas. According to Dru Pio – the President of iDeviceMD, "The new store in Alpharetta represents the 4th Atlanta location that iDeviceMD has opened in the past few months. Our expansion is in response to a growing need in the market for a quick, easy and convenient means for repairing electronic devices."
Given the popularity of cell phones, iPhones, iPads, and iPods and their tendency to be dropped and/or damaged by water during everyday use, it is no surprise that the business of repairing electronic devices has attracted a number of forward thinking entrepreneurs. Given the cost of these devices, it typically makes more sense for consumers to repair their devices rather than replace them.
iDeviceMD differentiates themselves from their competition by offering same day appointments, quick turnarounds and lifetime guarantees on all replacement parts. In fact, most repairs can be completed within a matter of minutes. In addition, their certified technicians will come to consumer's homes or places of business to make any needed repairs. Lastly, iDeviceMD will pay cash for devices that cannot be repaired.
By opening new locations around the metro Atlanta area, iDeviceMD is filling a void in the market while at the same time making it more convenient for consumers in and around Atlanta to take advantage of their services. Their hope is to become the standard name when it comes to electronic devices repairs in Atlanta.
The new store is located at 2300 Lakeview Pkwy #1583, Alpharetta, GA 30009 and will work on an appointment only basis to ensure excellent customer service and the shortest wait times. While the most common repairs include repairing and replacing cracked screens, the certified technicians from iDeviceMD are also well trained and equipped to restore water damaged devices, replace batteries and much more.
For more information about iDeviceMD, please visit http://www.idevicemd.com or call 678-235-7447.