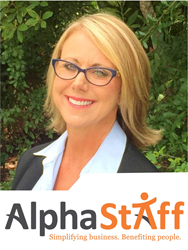 Fort Lauderdale, FL (PRWEB) June 08, 2015
AlphaStaff, a full-service national professional employment organization (PEO) and HR outsourcing firm, announced today the promotion of Jeniece Carter-Henson to vice president strategic business development. In her new role, Henson will also now be apart of the extended leadership team.
"As top sales producer for the past two years, Jeniece as proven to be a valuable asset to our organization. Her extensive experience in sales and building strategic partnerships with organizations such as the SBOA (Storage Business Owners Alliance) has made her a natural fit for this position," stated Kyle R. Kelly, President & CEO of AlphaStaff. Kelly continued, "in addition, her businesses acumen in illustrating the intrinsic and financial value that our PEO services bring to the bottom line of an organization has not only lent to her success but the success as a leader for our sales team as a whole."
Prior to her new position, Henson was vice president business development, focusing on small-medium sized business accounts and lead on the SBOA (Storage Business Owners Alliance) relationship through our dedicated Self Storage division. Her new responsibilities will be to focus on large Key/National accounts and strategic business development. She will also continue remain lead on the SBOA relationship. Henson has over 20 years experience in the PEO industry. She specializes in helping business owners realize measurable results through AlphaStaff's PEO cost management and efficiency strategies which positively contributes to their bottom line and profitability objectives.
About AlphaStaff
AlphaStaff is a leading professional employer organization that delivers a customizable suite of human resource, employee benefit and employee administration solutions designed to support organizations through their evolving business cycles. Through the buying power of more than 1,000 companies and tens of thousands of worksite employees, clients gain access to workforce management expertise, practical benchmarking data, HR information systems, insurance and the ability to realize a more predictable health care expense. AlphaStaff delivers measureable results ensuring clients achieve their objectives related to cost management, efficiency, compliance and profitability. AlphaStaff, founded in 1997, has supported more than 100,000 worksite employees in 49 states. For more information, visit http://www.alphastaff.com.
###