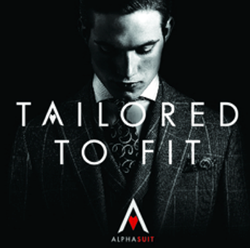 Alpha Suit is for Millennials; young professionals, recent college graduates, job seekers and anyone looking for a custom tailored suit at a great value.
COLUMBUS, Ohio (PRWEB) January 20, 2015
High end clothier Sean McKee has announced the launch of Alpha Suit, his new affordable line of great fitting, high quality, made-to-measure custom suits and clothing for young professionals. McKee's new brand reflects his decades-long commitment to power dressing the nation's most successful professionals in a way that meets the style demands and financial confines of a younger generation of movers and shakers.
Separating the Alpha Suit line from McKee's pricier Bespoke line of custom made suits is the designer's approach to marketing and selling them. By creating an opportunity for friends and colleagues to schedule an Alpha Suit "Pop-up" event, McKee has established a fun social gathering opportunity for customers to get together, have their measurements taken, select fabrics and place their order for a custom tailored suit on the spot.
By working with multiple clients at once McKee is able to increase volume and significantly lower his costs to pass the savings on to buyers. Alpha Suit buyers spend 60-70 percent less than they would with any other custom clothing company.
"Alpha Suit is for young professionals, recent college graduates, job seekers and anyone looking for a custom tailored suit and dress clothing at a great value," McKee says. "It is the perfect choice for anyone who wants to feel great, stand out in a crowd and make an impression."
In order to find out what all the excitement surrounding the Alpha Suit line is about, shoppers can simply attend a Pop-up event, which takes place in a variety of locations across Columbus—retail stores, hotel conference rooms, even in the back of popular upscale bars. Alpha Suit makes Pop-up event schedules available on its Twitter and Facebook pages, as well as on the website.
Shoppers can also ask their employer or organization to invite Alpha Suit to host a "Pop-up" event at work. Hosting an Alpha Suit Pop-up does not cost the host anything, and it is a great way to provide staff with a fun, unique event. Anyone who decides to act as the point person and organize an event can qualify for free clothing based on the sales that are generated.
Each high quality Alpha Suit can be purchased at a fraction of the traditional price for custom suits ($479 – $750), and dress shirts ($79 – $125). Students are entitled to a 10 percent discount on orders when they present a valid student I.D.
For more information, visit the AlphaSuit.com website or call 888-659-5579, Ext 1.
About Alpha Suit:
Alpha Suit founder Sean McKee has been one of North America's most in-demand clothiers for more than two decades. McKee has provided some of the country's wealthiest and most accomplished men with custom, made-to-measure high-end business apparel. Alpha Suit was developed to provide young professionals with the same high quality, made-to-measure suits at a fraction of the traditional price.
Through Sean McKee Clothiers, he competes against the finest tailor houses of New York City and London, and uses only the highest quality, name brand materials.
###