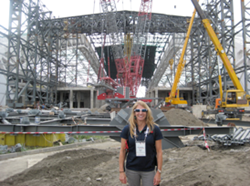 GUNNISON, COLO (PRWEB) November 13, 2013
Team USA named Gloria Beim, M.D., as chief medical officer for the 2014 Olympic Winter Games in Sochi, Russia.
As CMO, Beim will work closely with Bill Moreau, D,C., the director of sports medicine for the Unites States Olympic Committee, to coordinate all medical care for Team USA's athletes during their time in Sochi. This includes oversight of all athletes' medical needs, from managing routine colds and infections to treating injuries sustained during competition. She will supervise approximately 50 medical staff including other physicians, chiropractors, athletic trainers, physical therapists and massage therapists. Additionally, she will oversee all medications, medical supplies and equipment.
"I take my role very seriously, and am truly honored to be appointed to this position and considered part of Team USA," Beim said. "These athletes will be pushed to the brink and we will do everything we can to ensure they remain healthy and ready to compete."
Beim provided medical care at the 2012 and 2004 Olympic Games, as well as at a number of other high-level competitions, including two World University Games. Additionally, she was CMO for the 2011 Pan-American Games. To better communicate with medical colleagues and others in Russian, Beim has spent the last several months learning to read and speak Russian.
A well-respected physician, Beim has practiced orthopedic medicine since receiving her doctor of medicine from the University of California at San Diego's School of Medicine in 1990. She also completed a sports medicine fellowship through the Department of Orthopaedic Surgery at the University of Pittsburgh. She has been published in numerous professional journals and textbooks, and is the author of "The Female Athlete's Body Book." http://www.amazon.com/The-Female-Athletes-Body-Book/dp/0071411755
About Alpine Orthopaedics
Beim founded Alpine Orthopaedics, Sports Medicine and Regional Hand Center in 1999. The clinic maintains offices in Gunnison and Crested Butte and Telluride, Colo., and also operates a surgical center at the Gunnison location. The mission of Alpine Orthopaedics is to prevent injuries and maximize performance for each patient. To that end, Alpine Orthopaedics' medical team focuses on personalized service and education to meet the lifestyle, athletic and functional needs of patients. Beim and her colleagues believe in employing a variety of care modalities from acupuncture and massage to ultrasound guided treatments and physical therapy, with the goal of avoiding surgery whenever possible. The clinic employs state-of-the-art equipment and techniques, including Musculoskeletal Diagnostic Ultrasound. For more information, visit http://www.alpineorthopaedics.com.