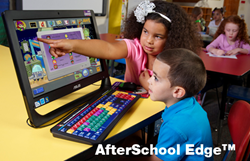 The AfterSchool Edge gives students an opportunity to learn at their own pace and follow their own interests. Our hope is that this solution will allow our students to begin the next school year with little or no summer learning loss. - Carol Whitaker
Chester, PA (PRWEB) June 18, 2014
The Alta Loma School District has added 14 new AfterSchool Edge™ computers from AWE for its Child Care Program. Alta Loma first purchased 10 units earlier this year and has added 14 more in time for the district's Summer Camp program. Following the Summer Camp, all 24 AfterSchool Edge computers will be distributed to eight sites within the Alta Loma School District to be used as part of the district's before-school and after-school child care services. Kindergarteners enrolled in the Child Care Program will be able to use the AfterSchool Edge computers during the extended portion of their day as well.
The AfterSchool Edge is an all-in-one touchscreen computer system designed for children of all elementary school grades. It contains over 60 educational software programs covering all subject areas: reading, phonics, math, science, STEM, history, geography, writing, reference, graphic arts, and music. The AfterSchool Edge is a plug-and-play system and does not require an Internet connection to operate. AWE does offer a host of reporting and tracking features through its online learning management system.
"The AfterSchool Edge computers offer our students a rich collection of education content that gives them an opportunity to learn and explore at their own pace and follow their own interests," said Carol Whitaker, Child Care Director for the district program.
"Our Summer Camp, a part of our larger Child Care Program, provides supervision and activities for approximately 180 students," Whitaker stated. "We decided to add 14 more AfterSchool Edge units for the summer program because we experienced great feedback from the initial 10 units."
"The added benefit of using them during the summer months is that they allow students to maintain academic fluency. Our hope is that this fun and engaging tool will allow our students to begin the next school year with little or no summer learning loss," continued Whitaker.
###
About Alta Loma School District (http://www.alsd.k12.ca.us)
The Alta Loma School District was established as an elementary school district in 1885, and provides education for children from kindergarten through eighth grade. The District operates eight elementary schools (kindergarten through sixth grade) and two middle schools (grades 7 and 8). The District encompasses approximately 25 square miles in the northern part of the City of Rancho Cucamonga and adjoining unincorporated areas. The District is located in the western portion of San Bernardino County, approximately 40 miles east of Los Angeles and 19 miles west of the City of San Bernardino.
About AWE, Inc. (http://www.awelearning.com)
AWE's mission is to inspire children to become lifelong learners and to create a "community learning" network that includes public libraries, schools, child care centers, and the home. AWE's engaging digital learning solutions feature intuitive learning environments, are easy to use, feature educational content across all subject areas, and can be personalized for every young learner.