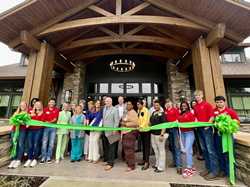 This building helps erase stigma connected to mental illness, and I hope it encourages more people to seek help and not be embarrassed.
ASHLAND, Ala. (PRWEB) May 26, 2023
AltaPointe Health, a leading provider of comprehensive mental health services, is pleased to announce the official ribbon-cutting ceremony for its brand-new clinic in Clay County. The Ashland, AL facility marks a significant milestone in the organization's ongoing commitment to improving access to mental healthcare.
"The building is an investment in the community and shows AltaPointe's commitment to providing the utmost in mental healthcare to the people of Clay County," said Tuerk Schlesinger, AltaPointe Health CEO. "Today is a special opportunity that allows attendees to explore the facility before any patients are seen, gaining a firsthand understanding of our commitment to deliver exceptional care. The pre-opening tour aims to showcase the thoughtful design and functionality of the new clinic, emphasizing the importance of creating an environment that promotes healing, comfort, and safety."
During the tour, AltaPointe staff and key representatives were available to answer questions and provide detailed information about the clinic's innovative features and services. From the utilization of advanced technology to the expertise of the highly skilled team of mental health professionals, attendees gained a better understanding of the clinic's capabilities in delivering personalized, evidence-based care.
The Mayor of Ashland, Larry Fetner, helped cut the ribbon to the new clinic along with Ashland city council members, AltaPointe board members, and other local leaders. Mayor Fetner was delighted over the building and what it means to Ashland.
"This beautiful building and its purpose will help many people in our community," Fetner added. "We are thankful that AltaPointe is here and look forward to how it will only make Ashland an even better place to live. This building helps erase stigma connected to mental illness, and I hope it encourages more people to seek help and not be embarrassed."
AltaPointe believes the medical community of Clay County is taking great care of those who live there and wants to help build upon that. "We intend to work closely with Clay County Hospital to help it meet the mental health needs of its patients. We have met with Clay County Hospital Administrators to develop a plan for providing mental health services to their patients," Schlesinger added.
Other speakers included: Cindy Atkinson, Associate Executive Director of AltaPointe's Sylacauga Region, and Sandra Parker, MD, AltaPointe Health Chief Medical Officer. Student members of the Central High School Ambassador's Club played a role by holding the green ribbon, a symbol of mental health awareness, for the ceremony.
MENTAL HEALTH SERVICES TO BE OFFERED AT THIS FACILITY
AltaPointe is currently in the process of receiving the Alabama Department of Mental Health certification and will open its doors in early June. The Lineville location will close, and patients receiving services there will be seen at the new outpatient office in Ashland, just minutes away.
AltaPointe's outpatient services in Clay County include clinic-based services as well as community-based services that have proven effective and highly beneficial to the people in treatment. Clay County now offers more services than before AltaPointe and Cheaha Mental Health Center merged in 2016. Services include school-based therapy, in-home therapy, clinic-based therapy, an Assertive Community Treatment (ACT) team, Bridge Team, Stepping Up Initiative, and a Juvenile Court Liaison.
ALTAPOINTE HEALTH QUICK FACTS:

AltaPointe provides 1.6 million services to 40,000 people each year.
AltaPointe provides mental healthcare to people in seven counties in Alabama; Mobile, Baldwin, and Washington counties in southeast Alabama; Clay, Coosa, Randolph, and Talladega counties in east-central Alabama.
AltaPointe operates free-standing psychiatric hospitals—BayPointe Hospital in Mobile County and EastPointe Hospital in Baldwin County.
AltaPointe's Behavioral Health Crisis Center was the first to open in Alabama in May 2022. It began a new era in mental health care.