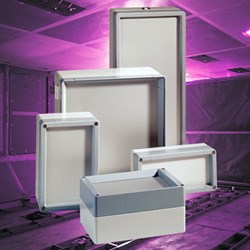 ROLEC's aluTWIN is unique because it is a twin-chamber standard enclosure that is manufactured from diecast aluminium, rather than plastic.
Fareham, Hampshire (PRWEB UK) 25 September 2013
Increased use of electronics in harsh industrial environments has been boosting demand recently for ROLEC's aluFACE and aluTWIN enclosures.
These two popular ranges of standard aluminium housings are perfect for a wide range of industrial electronics and electrical applications, including process automation and machine control.
ROLEC's aluFACE aluminium enclosures are extremely robust and feature an ingress protection rating of IP66.
The aluFACE range is manufactured from diecast aluminium DIN 1725. A wide variety of sizes is available, ranging from 120 x 120 x 80 mm to 640 x 320 x 153 mm.
Five different aluFACE case types are available:

Type KE with a single piece front frame
KSE with hinged two-part front frame
KCE with a shallow hinged front frame
KVE with fixed two-part front frame
KVE with a shallow fixed front frame and shallow base section.
The hinged versions help to make installation and servicing faster and easier while still retaining the strong degree of protection.
Internal mounting is provided with M6 screw ports. The anodised aluminium front panels are secured into the front frame from the rear.
There are no visible front panel fixings so membrane keypads or product labels can be fitted into the front frame with ease. Earthing points for the front frame and panel are also provided.
Accessories include an internal mounting plate, hinge, lock fasteners and side handle.
The aluTWIN range is the two-chamber version of aluFACE. These aluminium housings are manufactured in two sizes – 240 x 160 x 120 mm and 240 x 240 x 120 mm.
The terminal compartment has a separate lid and can be isolated internally from the main chamber so the terminal blocks can be accessed for installation without disturbing the electronics.
This makes aluTWIN an ideal range of housings for industries such as the marine sector.
The cases are fastened by single-channel lid fixings outside the sealed interior.
Goretex condensation glands that ventilate the case while maintaining IP66 protection are available on request.
These glands are used when there are considerable variances in the operating temperature over a short period, often resulting in a build-up of condensation inside the enclosure.
The aluFACE and aluTWIN electrical housings are powder painted light grey RAL 7035 (base) and window grey RAL 7040 (front frame). Other colours can be supplied on request. Prices for these enclosures start at £83.
ROLEC aluminium housings are distributed in the UK by OKW Enclosures Ltd of Fareham in Hampshire.
OKW Sales and Marketing Director Robert Cox said: "ROLEC's aluTWIN is unique because it is a twin-chamber standard enclosure that is manufactured from diecast aluminium, rather than plastic.
"The dual chamber configuration is ideal for minimising the risk of dust or water ingress during servicing," he added.
ROLEC offers a full customising service on these enclosures with CNC milling, drilling, silk-screen printing, assembly of cable glands and terminals and much more, providing a fully finished housing ready for fitting the components.
Family-owned ROLEC has more than 30 years of experience in the design and manufacture of aluminium and GRP enclosures for industrial electronics and electrical equipment.
Ranges manufactured by ROLEC include IP54, IP65, IP66, IP67 and IP69K enclosures.
For further details, please contact OKW Sales and Marketing Director Robert Cox +44 (0)1489 583858 or view ROLEC's website.
Notes For Editors
OKW Enclosures Ltd
15 Brunel Way
Segensworth East
Fareham
PO15 5TX
Tel: +44 (0)1489 583858
Fax: +44 (0)1489 583836
ROLEC has decades of experience in the design and manufacture of industrial enclosures for electronics and electrical equipment.
Its extensive range of innovative enclosures is brought to you in the UK by partner OKW Enclosures Ltd.
ROLEC is a medium-sized family-owned enterprise which manufactures exclusively at its factory in Rinteln, northern Germany.
ROLEC keeps all catalogued products in stock and uses ultra-modern machines to modify enclosures to individual requirements. ROLEC supplies fully finished enclosures without delay at competitive prices and "just in time".