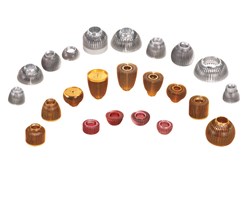 Die casted parts can be manufactured with smooth or textured surfaces, and they can be easily finished with a minimum of surface preparation
Shanghai, China (PRWEB) September 07, 2013
P&A International, a company that provides top quality sheet metal fabrication services in China, including aluminum die casting and more, has just announced that it is offering a promotion for orders on newly designed products. During the month of September, 2013, customers will receive a free sample run of parts upon the completion of the tooling order. P&A International will produce up to 15 samples—or up to 5kg worth of aluminum extrusion—at no cost. For companies that are looking to get their project off the ground and are planning on doing a sample run of custom aluminum parts and components, this promotion will be especially helpful.
Since the day P&A International opened for business, it has strived to provide its customers with the best custom extrusion services. The die casting China based company has developed a well-deserved reputation for its custom aluminum extrusion and diecasting products. Because P&A International is located in China, they can offer their aluminum parts and components at very reasonable and competitive prices.
As an article on the P&A International website explains, there are many advantages to aluminum die casting. For example, it tends to be a very economical process that also features a wide variety of shapes of diecasting components—more so than any other manufacturing technique. In addition, the parts are very durable, and they offer high dimensional accuracy and stability.
"Die casted parts can be manufactured with smooth or textured surfaces, and they can be easily finished with a minimum of surface preparation," the article noted, adding that they can also provide integral fastening elements as part of the design.
"For many parts, post-machining can be totally eliminated, or very light machining may be required to bring dimensions to size."
Anybody who would like to learn more about P&A International is welcome to visit the company's user-friendly website at any time; there, they can read more about aluminum extrusion and their wide range of aluminum die casting services.
About P&A International:
P&A International provides high quality Sheet Metal Fabrication services in China. The company's Sheet Metal Fabrication division specializes in precision machined prototypes, short run sheetmetal productions and quick turnaround metal shop services. Based in China, the company has built up a reputation for reliability, quality and competitiveness, not only with steel fabrication services but throughout its entire range of services. For more information, please visit http://www.pa-international.com/products/diecasting-extrusions-china.