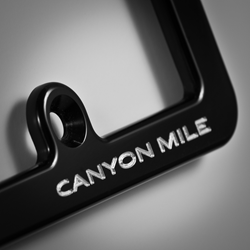 It is amazing how many drivers, even at the Formula One Level, think that the brakes are for slowing the car down. – Mario Andretti
Redondo Beach, CA (PRWEB) July 16, 2014
These anodized aluminum license plate frames (http://canyonmile.com/billet-aluminum-slim-fit-license-plate-frame.html) are available in either gloss black or polished aluminum. Premium slim fit license plate frames are the perfect match for the auto enthusiast's special vehicle. Why? Because these cars deserve high quality fit and finish. Details are important to the auto enthusiast.
Canyon Mile is a driving inspired automotive lifestyle company dedicated to designing products that encompass motorsport passion and style. These billet aluminum license plate frames (http://canyonmile.com/billet-aluminum-slim-fit-license-plate-frame.html) are perfect for the true auto enthusiast. These frames will never rust and will most likely outlive the car itself.
Enjoy these 4 helpful tips for the Perfect Auto Enthusiast Garage
Do A Bit of Spring Cleaning
The first step is the most obvious: clean out that garage! If the garage looks like it should be on an episode of Hoarders, then this may take a while. If at all possible, try to remove any non-car related items like bikes, kid's toys, etc. The garage should be the domain of the car and nothing else.
Check If Permits are necessary
Depending on what you want to be able to do in the garage, you may have to check your state building codes to determine if permits are needed for certain things. Things like adding a sink (which is, by the way, a great addition to a garage) or doing anything with the foundation (perhaps to improve the drainage) may very well require a permit.
Install a Lift
Any real garage needs a lift of some type in order to get to those hard to reach places. If there are high ceilings, go with a two-post lift, preferably with a high weight capacity. If there is no space for a lift then go with hydraulic floor jacks. They are not ideal but they will get the job done.
Protect Flooring
Some people use epoxy to protect their floors from things that can stain it, like oil. While this is certainly a good option, I would recommend going with RaceDeck flooring, or something like it. It is easy to clean, durable, and gives the garage a professional finish.
About Canyon Mile
"Our goal is to provide a subtle, sophisticated, and fashionable way for auto enthusiasts to express their connection to automotive culture, both on and off the road."
– Keith Skowronski, owner
Stay tuned to hear about the new products that are currently in development. Plan to see new t-shirt designs, hats, and polo shirts.
Explore the world of Canyon Mile at (http://www.canyonmile.com).
For more information, contact info(at)canyonmile(dot)com.
Media Contact: info(at)canyonmile(dot)com
310.318.8972