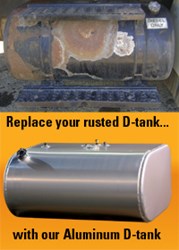 The new 70 gallon, aluminum D tanks combine significant weight savings with improved corrosion resistance over steel tanks.
Cleveland, Ohio (PRWEB) December 17, 2013
Cleveland Tank & Supply has announced new D.O.T. certified 19" 70 gallon aluminum D tanks that can be shipped from stock within 48 hrs. These aluminum D tanks offer significant weight savings and corrosion resistance over steel tanks. The weight savings generate fuel economy, and the improved corrosion resistance of an aluminum tank reduces maintenance. Many customers are using the aluminum tanks as replacement to the original steel tanks provided by major original equipment manufacturers as a way to maximize cost and weight savings. Cleveland Tank can offer D Tanks with 16" or 19" heights from 50 gallons up to 105-gallon capacity and also can provide mounting straps.
The new 70 gallon 19" D tanks are stocked and larger capacities are up to 105 gallons with minimal lead times and are an addition to an existing offering of 16" 50 gallon D tanks Cleveland Tank has successfully manufactured and marketed for a number of years.
"The new 70 gallon, aluminum D tanks combine significant weight savings with improved corrosion resistance over steel tanks," according to company sales manager, Pat Donegan.
Cleveland Tank can also design a certified tank to the user's specifications to provide the greatest fuel payload within the available tank space. Mounting hardware, including brackets, straps and insulator are readily available from stock. Fill neck, anti-siphon, sight gauges, drain check valves, sumps, draw tube (s), fuel return, vents and drain fittings can be oriented to deliver the best solution for the customer's fuel delivery needs.
About Cleveland Tank
Cleveland Tank & Supply, Inc. is located in Cleveland, Ohio. The company is a full line manufacturer of steel, aluminum and stainless steel fuel tanks and accessories. They provide all of these products using 100% domestic content and provide engineering and design support as well. Cleveland Tank began as a distributor supplying diesel fuel tanks, mounting hardware and accessories to specialty equipment O.E.M's, body builders, repair shops and the aftermarket.
Recognizing customer needs were not being met by traditional sources, the company undertook a transition to become a full line manufacturer for all the tanks and mounting hardware they offer. Products include aluminum, steel and stainless steel rectangular, cylindrical and specialty tanks. The company also manufactures popular sizes of L-brackets (rectangular) and J-brackets (cylindrical), steel and stainless steel straps and accessories required for proper fuel tank mounting.
Please visit http://www.clevelandtank.com or call 216-771-8265, Ext 102, for further information.