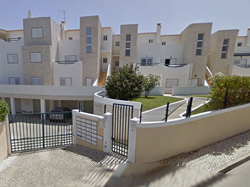 New website launched by Alvor Apartment
(PRWEB) September 19, 2014
The Alvor Apartment team has just completed and launched their brand new website.
They decided to revamp their website because they wanted to reach a larger audience and make it easier for visitors to see exactly what the village of Alvor and their apartment have to offer. The site has been rewritten and uses a new theme that allows site visitors to find out more and do so faster.
Far more photos are included on the Alvor Apartment website. Photos tell holidaymakers what they need to know to determine whether this popular holiday rental property is right for them far better than a description can. The photos show off the generous proportions of the rooms, and allow prospective holidaymakers to see exactly what this spacious, modern, two-bedroom open plan apartment has to offer.
The apartment's owners wanted families to see that the apartment complex is a safe and secure place with good privacy around the pool area. To achieve this, more photos of the pool and gardens have been included on the new site.
In addition, several new area guides are now available on the site. Currently, the website features a guide for golfers, which summarises what each of the five local golf courses has to offer.
There is also a guide for families with young children. This guide explains where to find facilities like soft play areas and petting zoos. A lot of families stay in the apartment, so this additional family orientated information is an important addition to the website.
These guides are designed to ensure that holidaymakers know before they arrive what leisure facilities are available, where they are located and when they are open. There is also more information about the village itself to help guests with making plans before they arrive.
Another important addition to the new website is the ability for the information on the site to be read in several different languages.
Caroline Hoyle from Alvor Apartment said: "Over the past few years we have seen more demand for our apartment and get enquires from across Europe, which is why we decided to provide information in several languages on our new website. Alvor is a lot busier than it was a few years ago. The remodelling of the riverfront and improved access to the estuary beach has helped to bring more tourists here. Our new website taps into this and shows people more about the area as well as the apartment."
Companies like Alvor Apartment are benefiting from the fact that so many more people are deciding to holiday in Portugal. In 2006, 12.1 million people holidayed in Portugal. By 2011, 14.1 million people visited Portugal. In 2013, visitor numbers were up again, and the country made €9bn from tourism.
Those property owners who take the time to showcase their Portuguese holiday homes online are benefiting from the increase in visitor numbers. They are tapping into the fact that 80% or Brits and more and more Europeans now look for and book their holiday accommodation online.
--
Contact Details:
Contact Name: Caroline Hoyle
Contact Email: bookings(at)alvor-apartment(dot)com
Contact Number: +44 (0) 161 928 8799
Contact Address: Alvor Apartment
Rua Alfredo José Barroso
Urb. Quinta de São Pedro
Alvor, Portimão. 8500-006