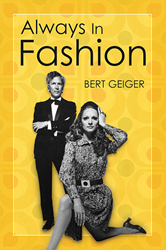 A rare behind-the-scenes look at a designer's uphill climb toward success...
Chapel Hill, NC (PRWEB) August 07, 2016
The fashion world gets a rare historical closeup in Bert Geiger's autobiography "Always In Fashion," released independently by Wisdom House Books this July 2016. Bill Cunningham, fashion photographer for the New York Times and long time friend of Bert, writes in the foreword, "It is a rare behind-the-scenes look at a designer's uphill climb toward success, particularly in establishing his own label. Books on fashion usually ignore, or gloss over, the hard cold facts of becoming a designer, preferring to elaborate on the high-life glamor of that industry."
Young designers considering fashion careers will be ahead of the curve after reading Geiger's experiences, and will see the reality of how quickly the industry changes from one season to the next. All fashionistas will savor the photographs of the designer's life that appear at the end of each chapter, supplementing Geiger's rich descriptions of fabrics, patterns, and clothing styles.
From the fifties to today, Bert's designs survived trends and fads each season by working with classic lines, which made his clothes "Always In Fashion." He celebrated his 94th birthday shortly before releasing his book.
Geiger will have a launch party at his home at Carolina Meadows in Chapel Hill on Monday, August 15 from 2:00- 3:30 p.m., where he will sign books and discuss his lifetime in design. "Always in Fashion" is available for purchase on Amazon and Bert's website http://www.bertgeigerfashion.com.