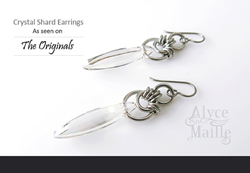 Alyce n Maille's Crystal Shard Earrings are equal parts statement jewelry and timeless glamour.
Orlando, Florida (PRWEB) November 18, 2015
Alyce n Maille (http://www.alycenmaille.com) is pleased to announce that Rebecca Breeds (as Aurora de Martel) has worn its Crystal Shard Earrings on Episodes 305 and 308 of The Originals. Episode 305, "The Axeman's Letter," aired on the CW Television Network on November 5, 2015. Episode 308, "The Other New Girl in New Orleans," aired December 3, 2015. In addition, Scarlett Byrne (as Nora Hildegard) wore Alyce n Maille's Iridescent Lilac Earrings on Episode 706 of The Vampire Diaries. The episode, "Best Served Cold," aired November 12, 2015, on the CW Television Network.
The Originals' wardrobe stylist selected the Crystal Shard Earrings, an Alyce n Maille original design, to be worn by Rebecca Breeds receiving them as part of a stylist gift bag initiative coordinated by arts promotion and celebrity gifting company The Artisan Group®. The Iridescent Lilac Earrings were presented and selected to be worn by Scarlett Byrne in a similar manner.
The combination of chainmaille and large Swarovski crystal drops that make up the Crystal Shard Earrings have resulted in a unique design that is equal parts statement jewelry and timeless glamour. "The crystal shards have a slight hint of color, which makes them perfect for coordinating with any outfit," remarked Alyce n Maille founder/designer Jennifer Nyiri.
The Iridescent Lilac Earrings, also an Alyce n Maille original design, were handwoven using 14kt gold filled rings, delicate glass beads and shimmering iridescent crystals. "For these earrings, I was after an interesting look that would be versatile enough to suit different characters," said Jennifer. "They are unique, stylish, and present the wearer with a beautiful way to get noticed."
Both the Crystal Shard Earrings and the Iridescent Lilac Earrings, as well as other handcrafted jewelry designs from Jennifer Nyiri, are available to custom order at alycenmaille.com.
Alyce n Maille specializes in meticulously crafted chainmaille jewelry, combining old world charm and intricate detail. Its Pink Crystal and Pearl Keepsake Earrings were worn by Candice King (as Caroline Forbes) on Season 5, Episode 21 of The Vampire Diaries. The episode, "Promised Land," aired in May of 2014. Nina Dobrev donned a Blue Frost Crystal Pendant in the Season Six finale of The Vampire Diaries.
Other pieces are in the hands of Alycia Reiner (Orange is the New Black) and Ariel King (2014 Queen of the Universe).
Alyce n Maille jewelry has been included in The Artisan Group gift bags for the 2015 MTV Movie Awards, the 2013 and 2014 Primetime Emmys and 2014 New York Fashion Week. It was also a sponsor at Joyce Giraud's 2014 Queen of the Universe Pageant. It's Not About Me TV has described Alyce n Maille's jewelry as "beautiful," while the Los Angeles Informer called it, "stunning."
Jennifer is a mother of three mom-preneur who manages all aspects of Alyce n Maille, including design, production and bookkeeping. She is committed to offering great customer service and creating personal connections with her customers, which has paid off with a coveted five-star customer satisfaction rating on Etsy and positive customer reviews. Said one happy customer, "This was an impulse buy, and it's good to know my impulse has good taste."
Supporting a cause that is close to her heart, Jennifer donates a portion of proceeds from the sale of Alyce n Maille jewelry to Dolly's Foundation (dollysfoundation.org), during a once a year fundraiser. Dolly's foundation provides community support for pet owners in need, including financial assistance for spaying/neutering, shots and food.
To learn more about Alyce n Maille, visit alycenmaille.com. Follow Alyce n Maille on Facebook, Twitter Instagram and Pinterest (@AlycenMaille).
For more information about The Artisan Group, visit theartisangroup.org.
About Alyce n Maille
Alyce n Maille (http://www.alycenmaille.com) is a collection of artisan-made chainmaille jewelry and accessories with a hint of old world charm. Each piece is handcrafted by designer Jennifer Nyiri using the highest quality materials.